Virgin Active Siam Discovery, the Most Luxurious Gym in Southeast Asia
Virgin Active Siam Discovery, the Most Luxurious Gym in Southeast Asia
One Session at Virgin Active Will Make You Fall in Love with Exercise


For fitness enthusiasts, paradise is a gym that is equipped with state-of-the-art equipment; a gym that meets the standards of hygiene, provides a serene atmosphere, has knowledgeable trainers, and offers numerous exercise classes. Imagine what Virgin Active, located on Siam Discovery's 4th floor, the largest and fanciest fitness club in Southeast Asia, will do to true gym junkies.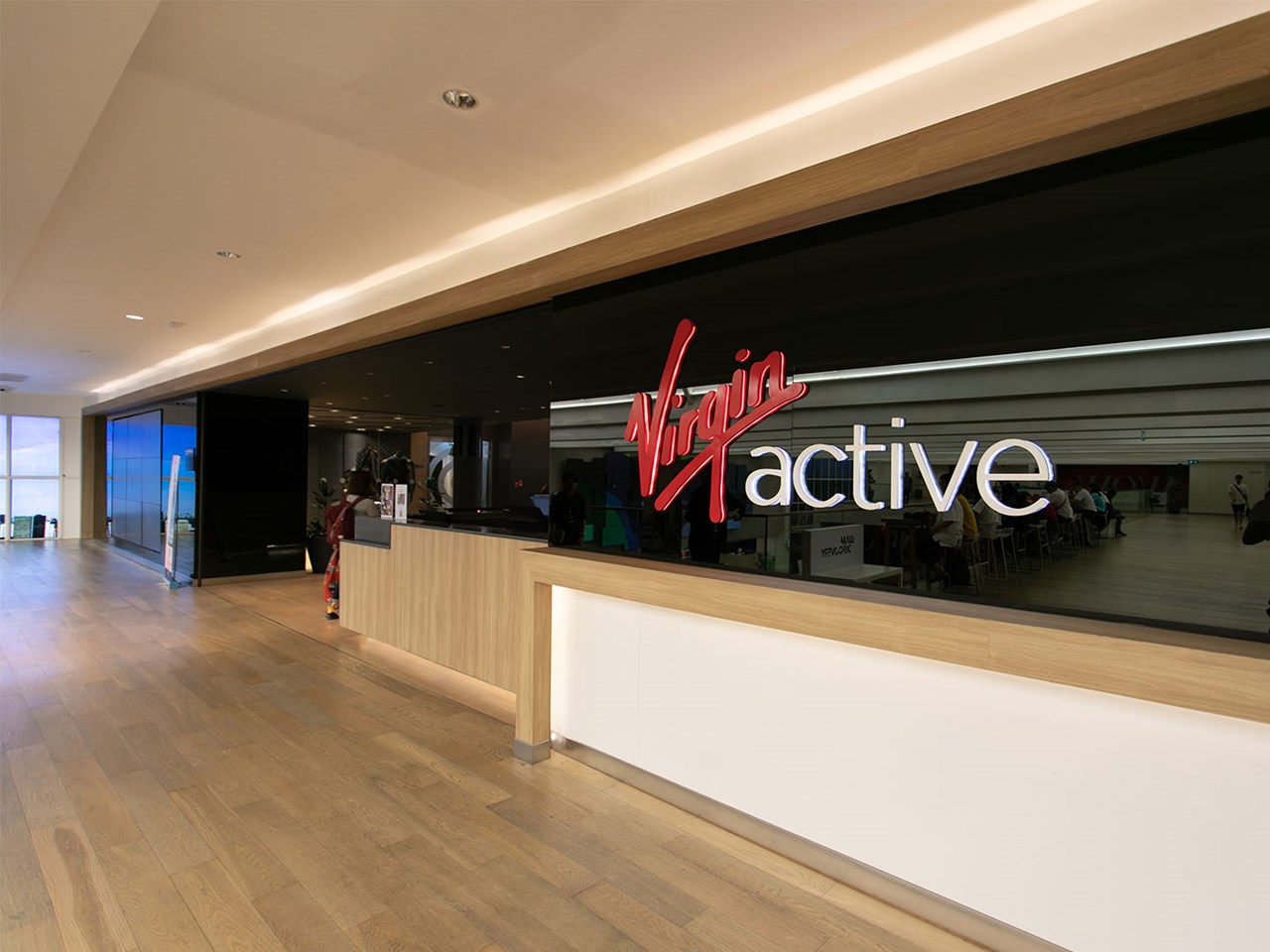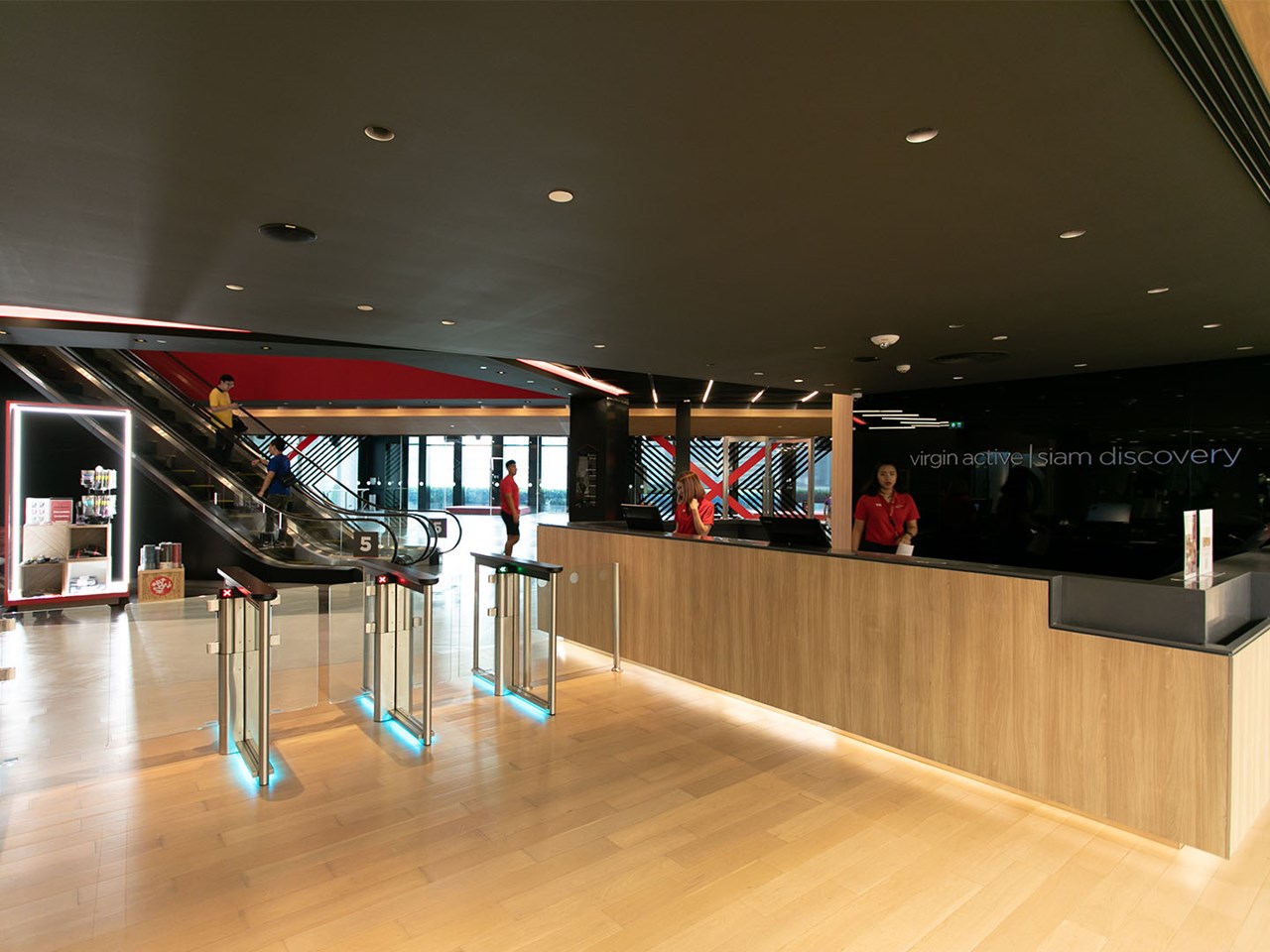 Virgin Active at Siam Discovery covers up to approximately 5,000 square meters of space. The club is divided into various zones so it may be easier for people who are looking to focus on different types of exercises. The club is open every day with the following hours:
- Monday-Friday, 06:00 – 22:00
- Saturday-Sunday (and public holidays), 08:00 – 21:00

Perhaps the greatest highlight at the Siam Discovery branch of Virgin Active is "The Trip™". It is a cycling session that will take cyclists on a 30-minute adventure through a land of imagination, using a virtual reality screen paired with catchy musical beats. One could say you'd be getting the same experience as being in a premium movie theater. The best part is that The Trip is a special feature only available at Virgin Active Siam Discovery!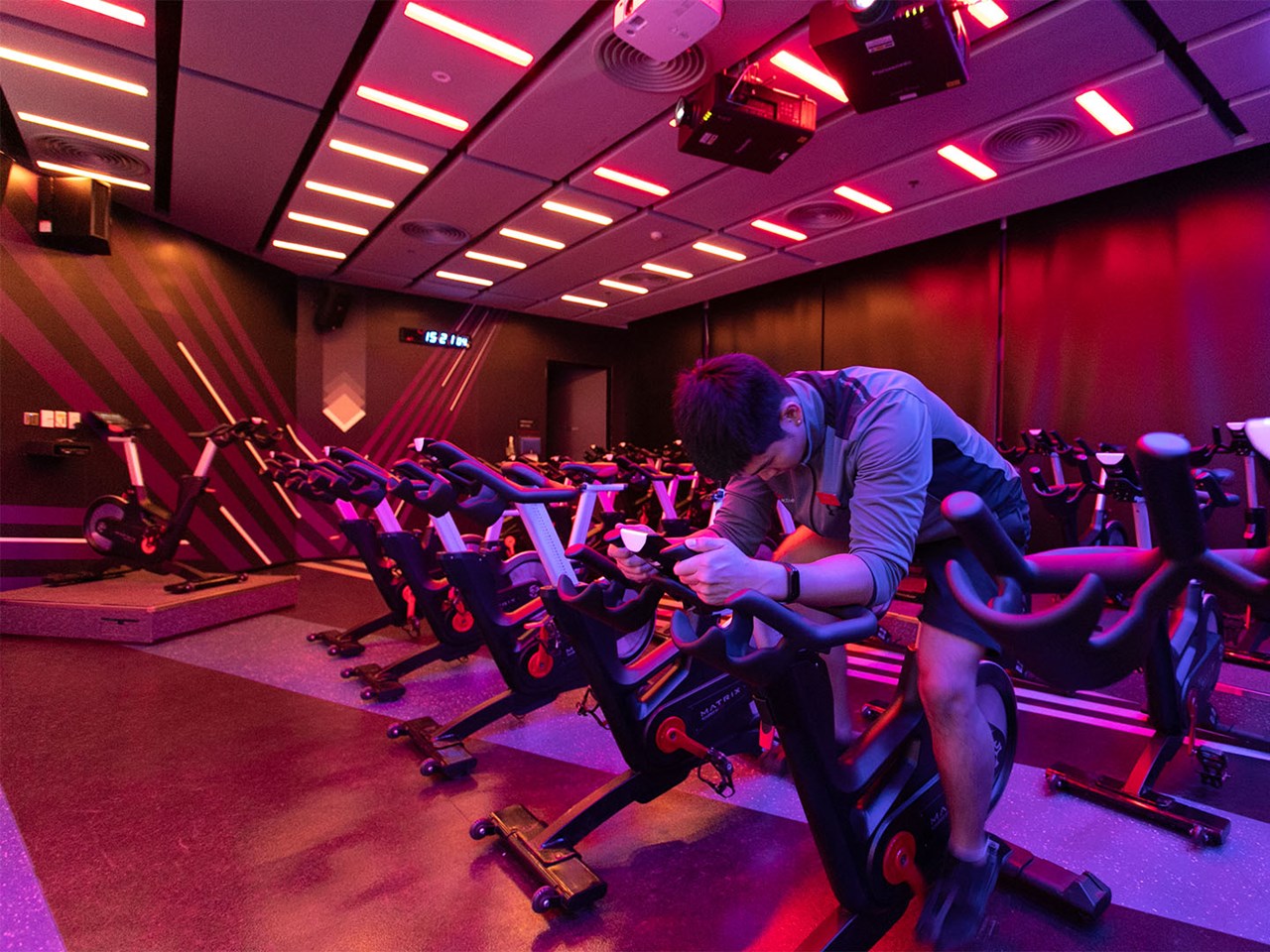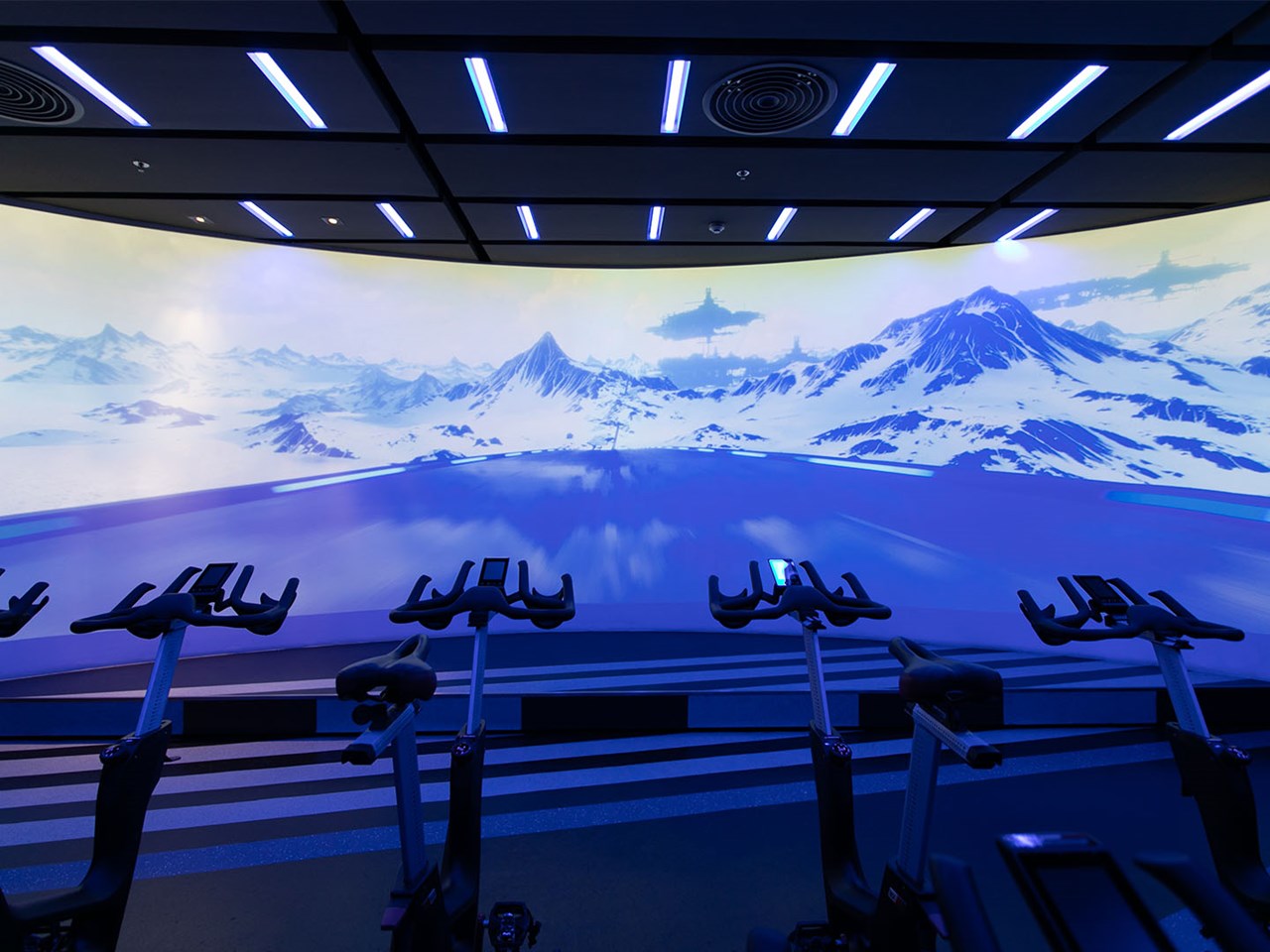 Another feature of Siam Discovery's Virgin Active that should not be missed is the "Climbing Wall". From the name, you already know that this zone is a rock climbing course. It comes complete with a belay device, a state-of-the-art technology that ensures safety. This belay device will be prevent climbers from falling off the course without the need of having an actual belaying person and can be easily attached to the harness worn by the climber. In addition to convenience, this will also add to the confidence of those looking to try their hand at rock climbing.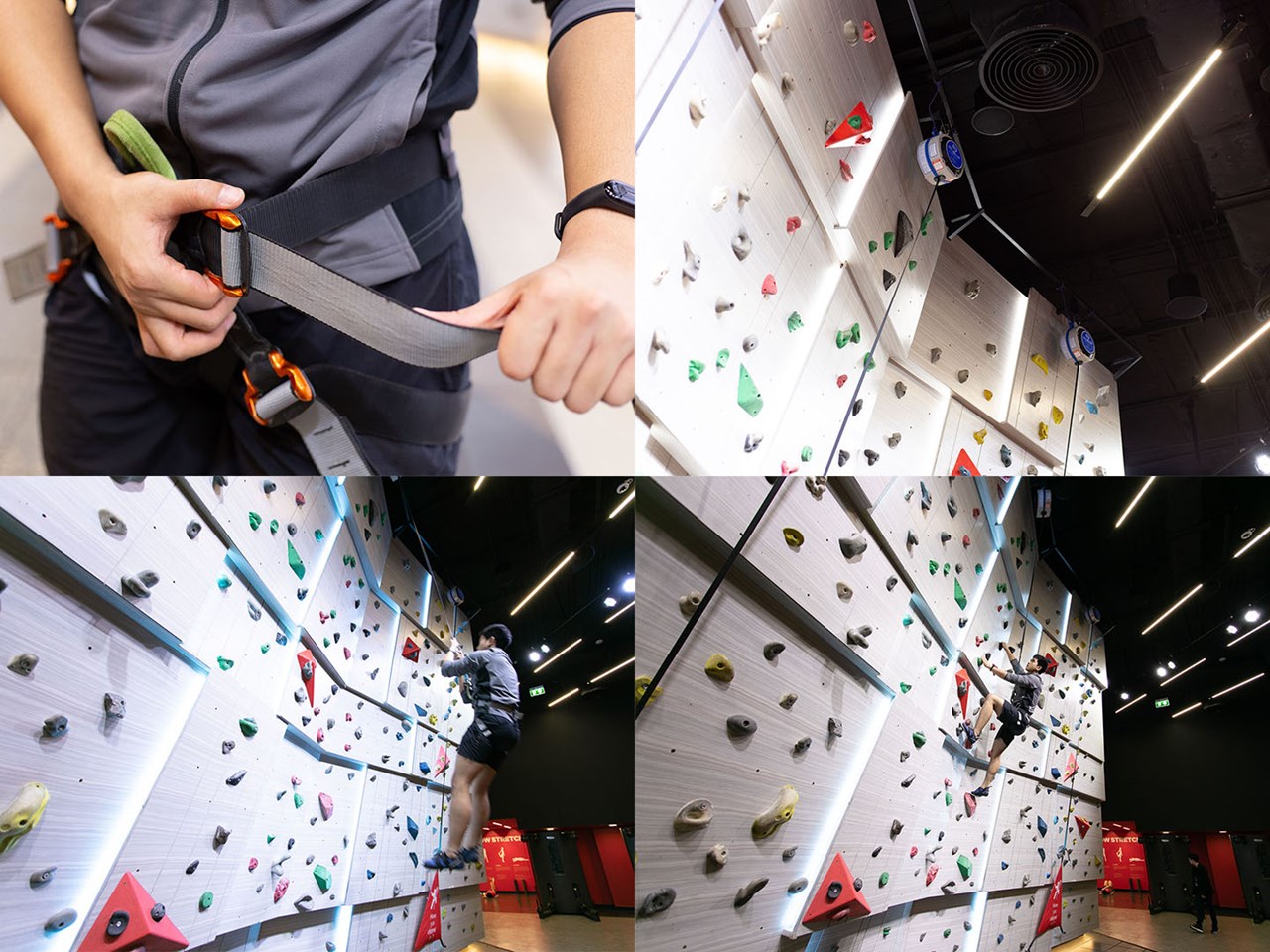 Virgin Active Siam Discovery's vast workout space, complete with various top-of-the-line exercise equipment, is actually divided into two and a half floors, with each floor being designated a specific purpose.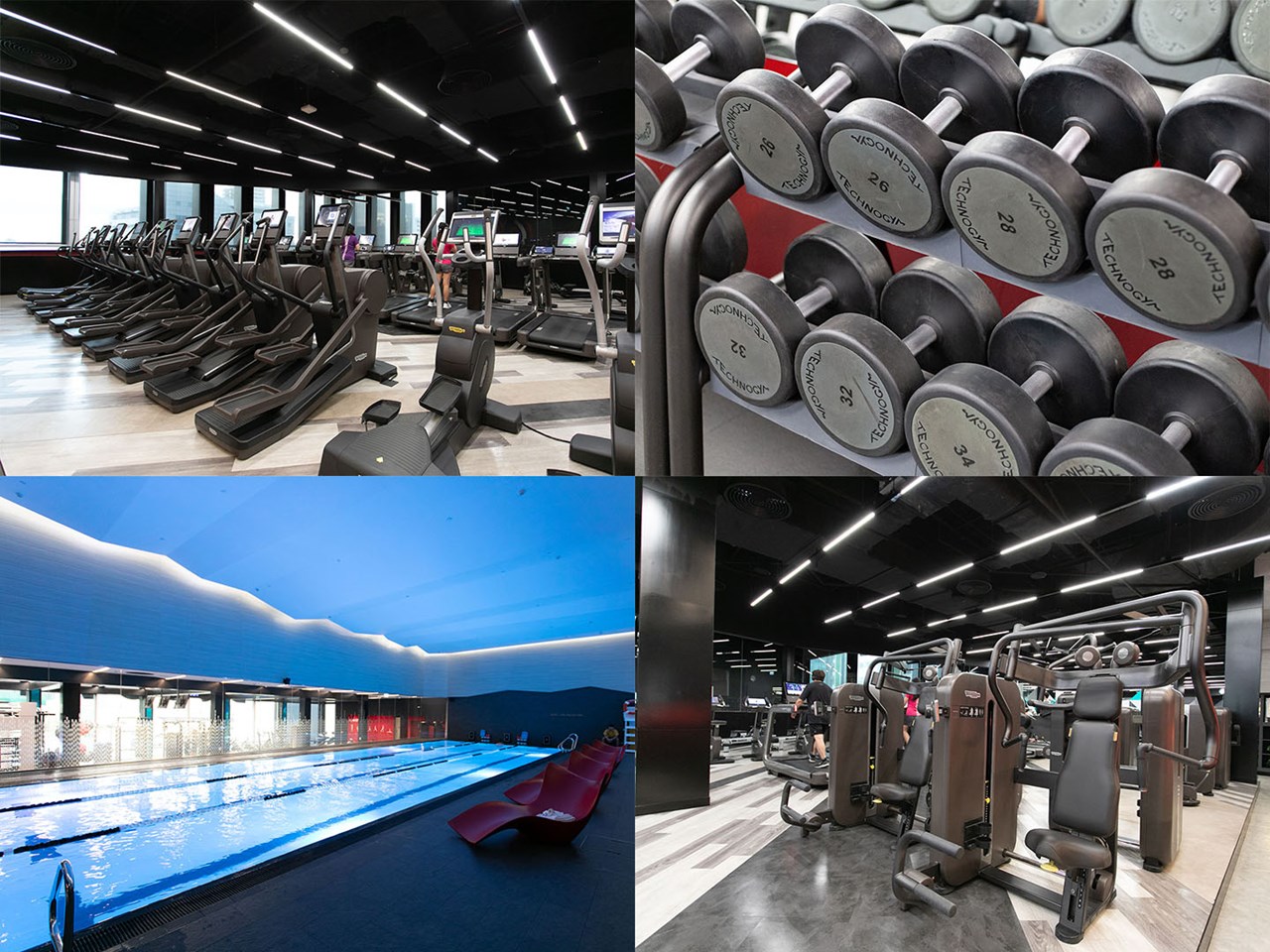 1st Floor: Relaxing Zone & Studios
Relaxing Zone: Perhaps the most prominent feature in this zone is the "Sleep Pod" room. Inside this room, you'll find a chair-like contraption that allows for relaxation and sends low-frequency waves through headphones that you wear for a period of 20 minutes. What results is relaxed brainwaves and deep sleep. You'll leave the Sleep Pod feeling refreshed and rejuvenated.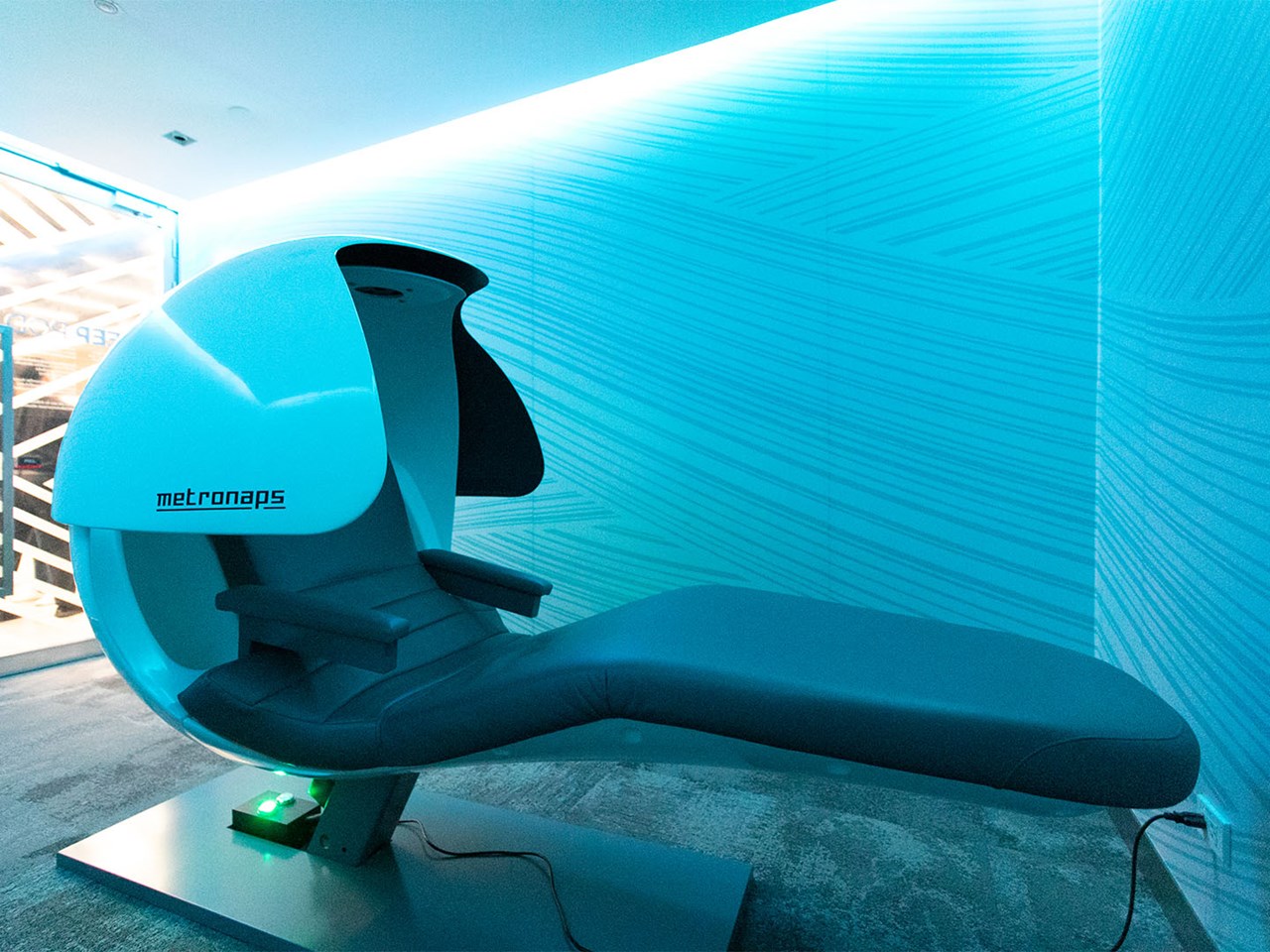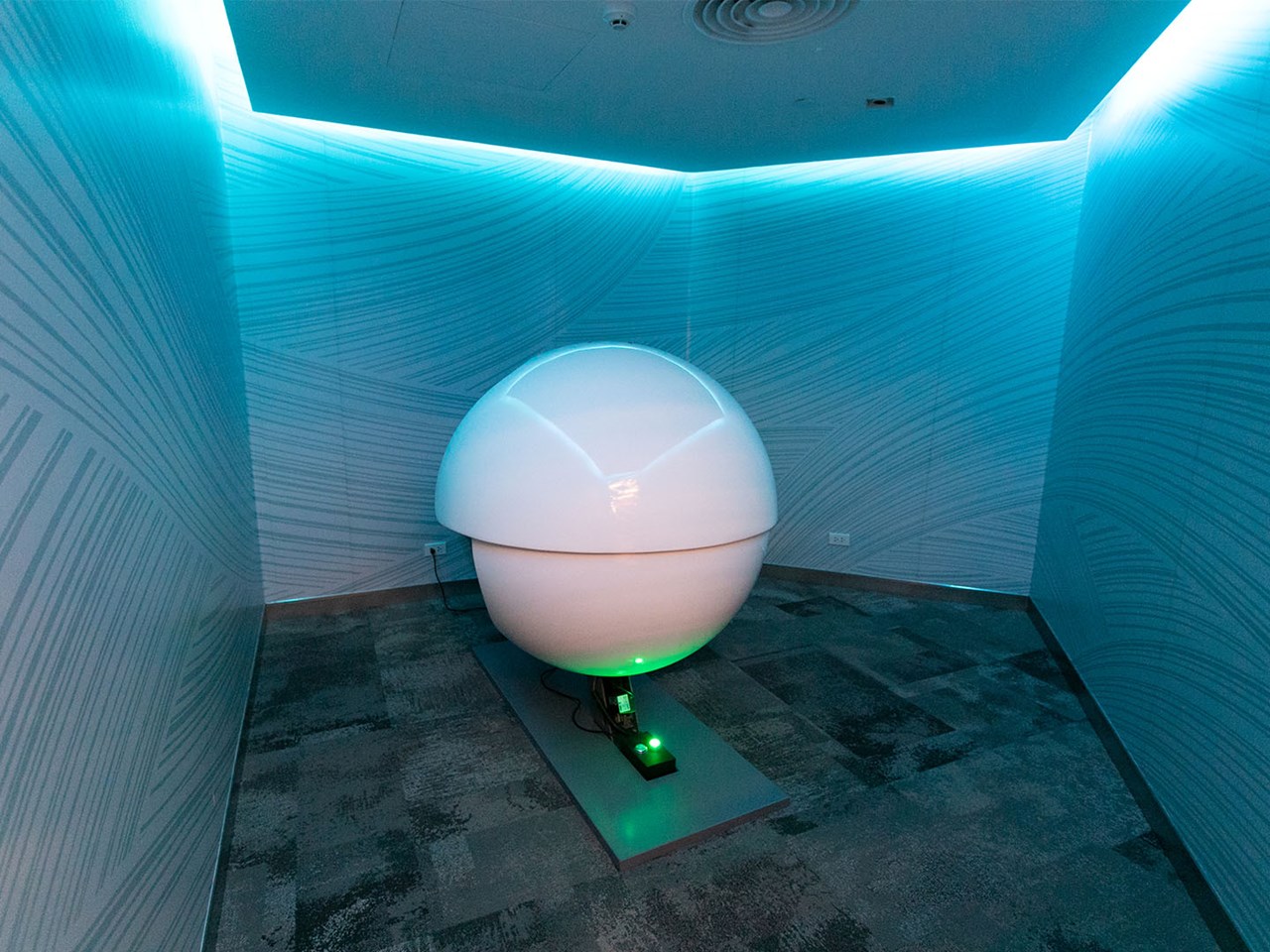 The V-Café and an Internet corner with Free Wi-Fi will be on the inside of the fitness club. Furthermore, a small meeting room is also available. Now you can work and exercise at the same time.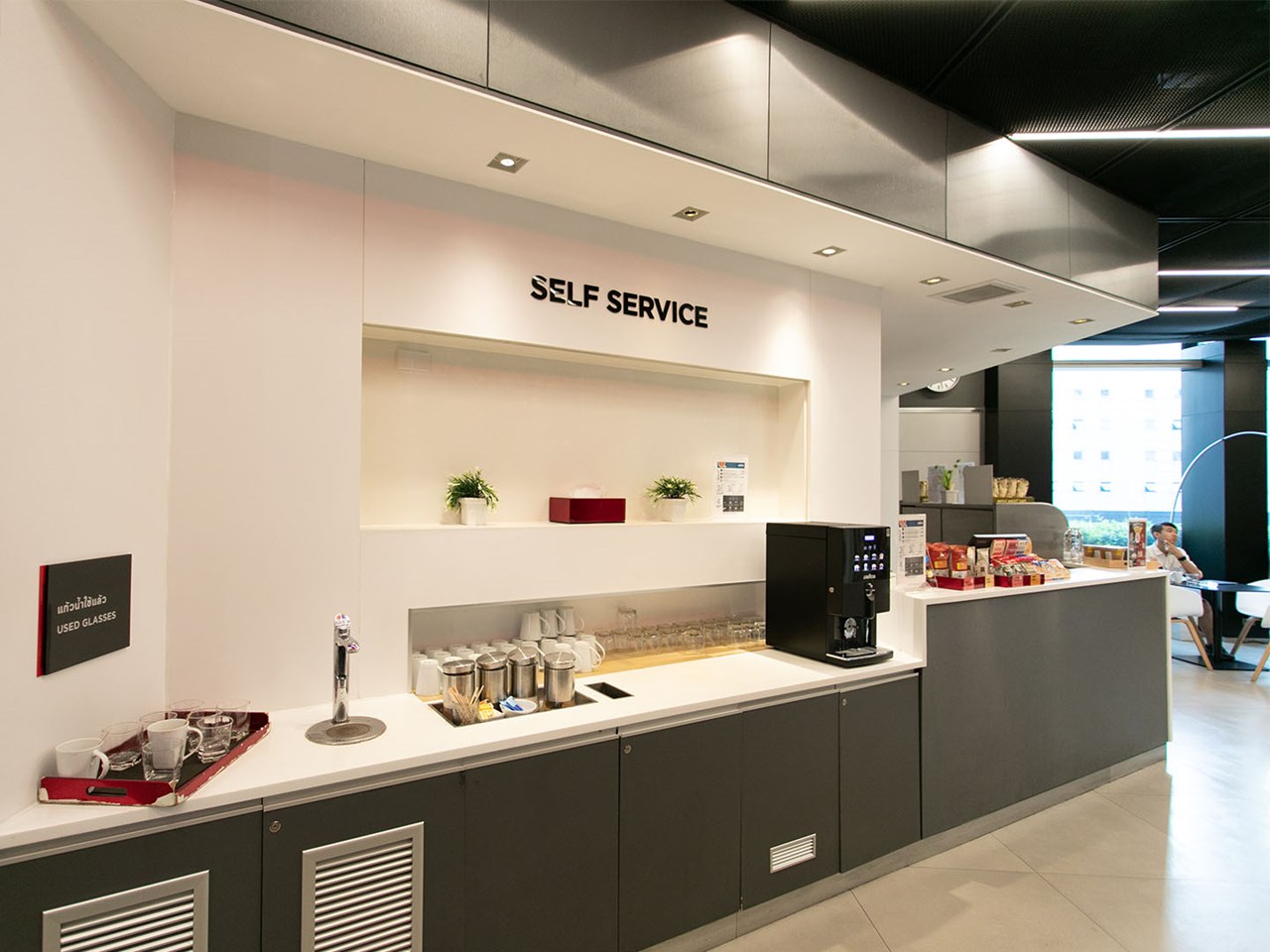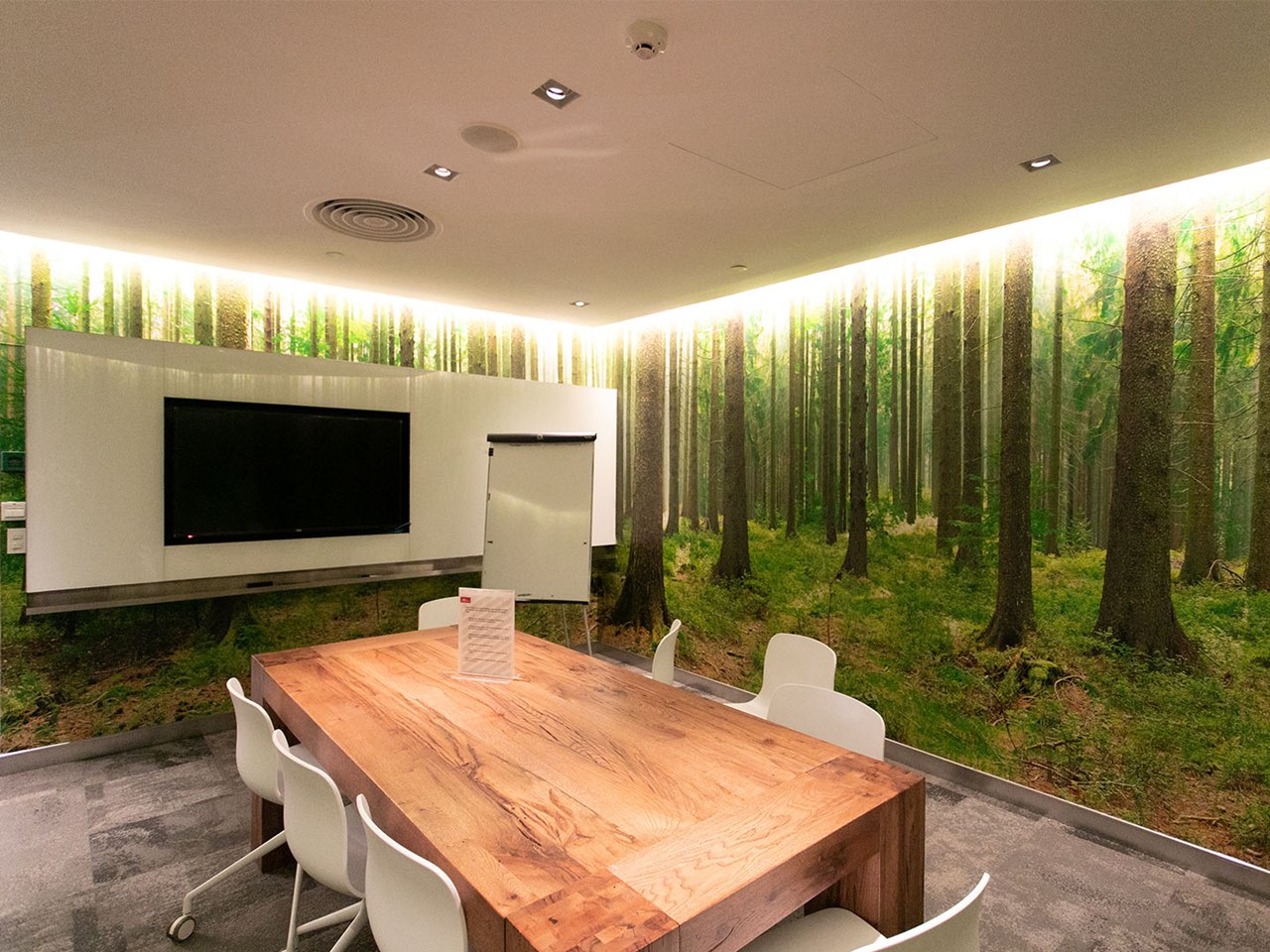 The Studios at Virgin Active Siam Discovery include Studio 1 and Studio 2. Each Studio hosts classes that are focused on aerobics. The Mind & Body room hosts yoga classes such as Power Yoga Flow and Anti-Gravity Yoga, all of which are meant to help improve bodily functions and blood flow.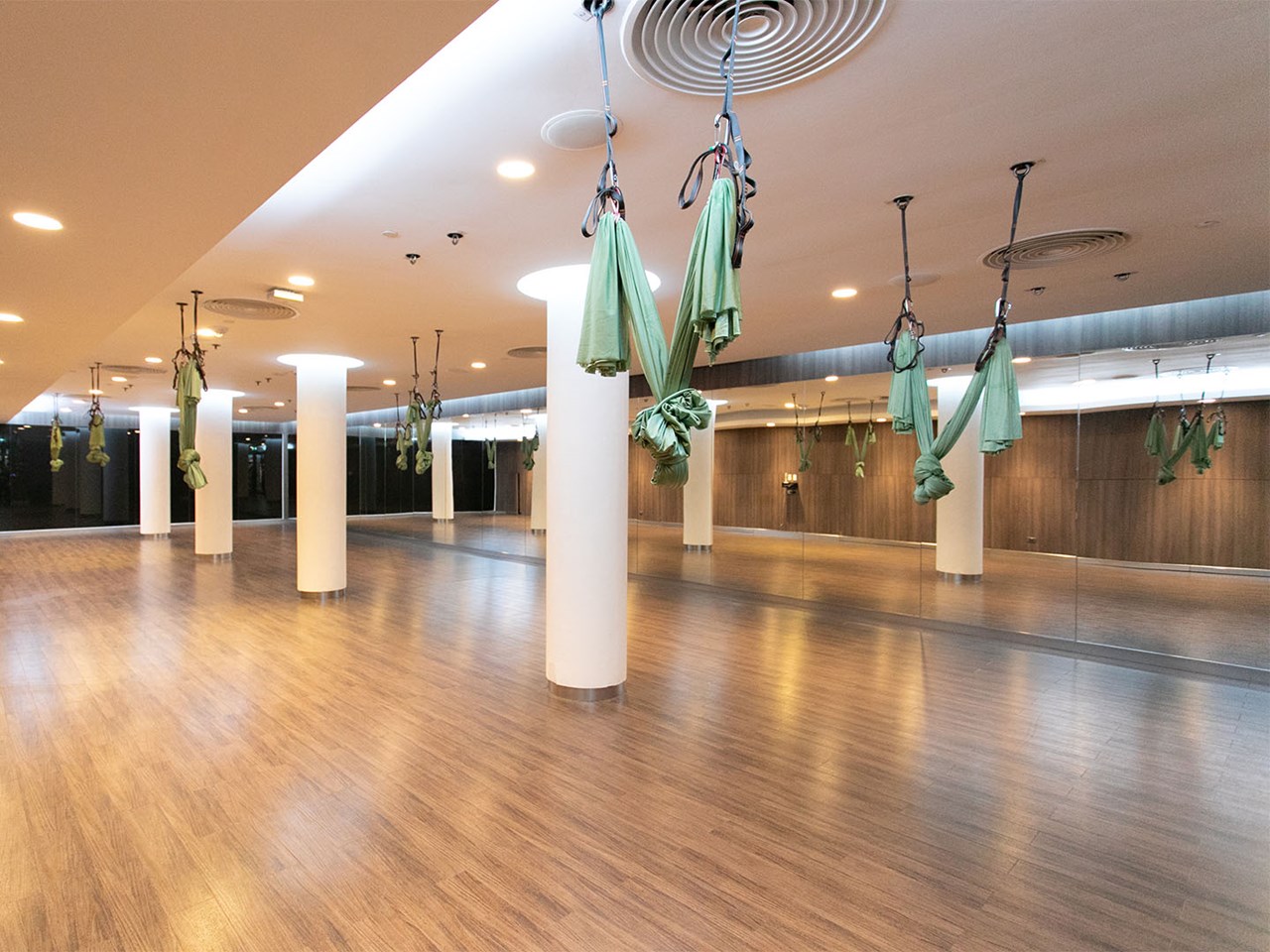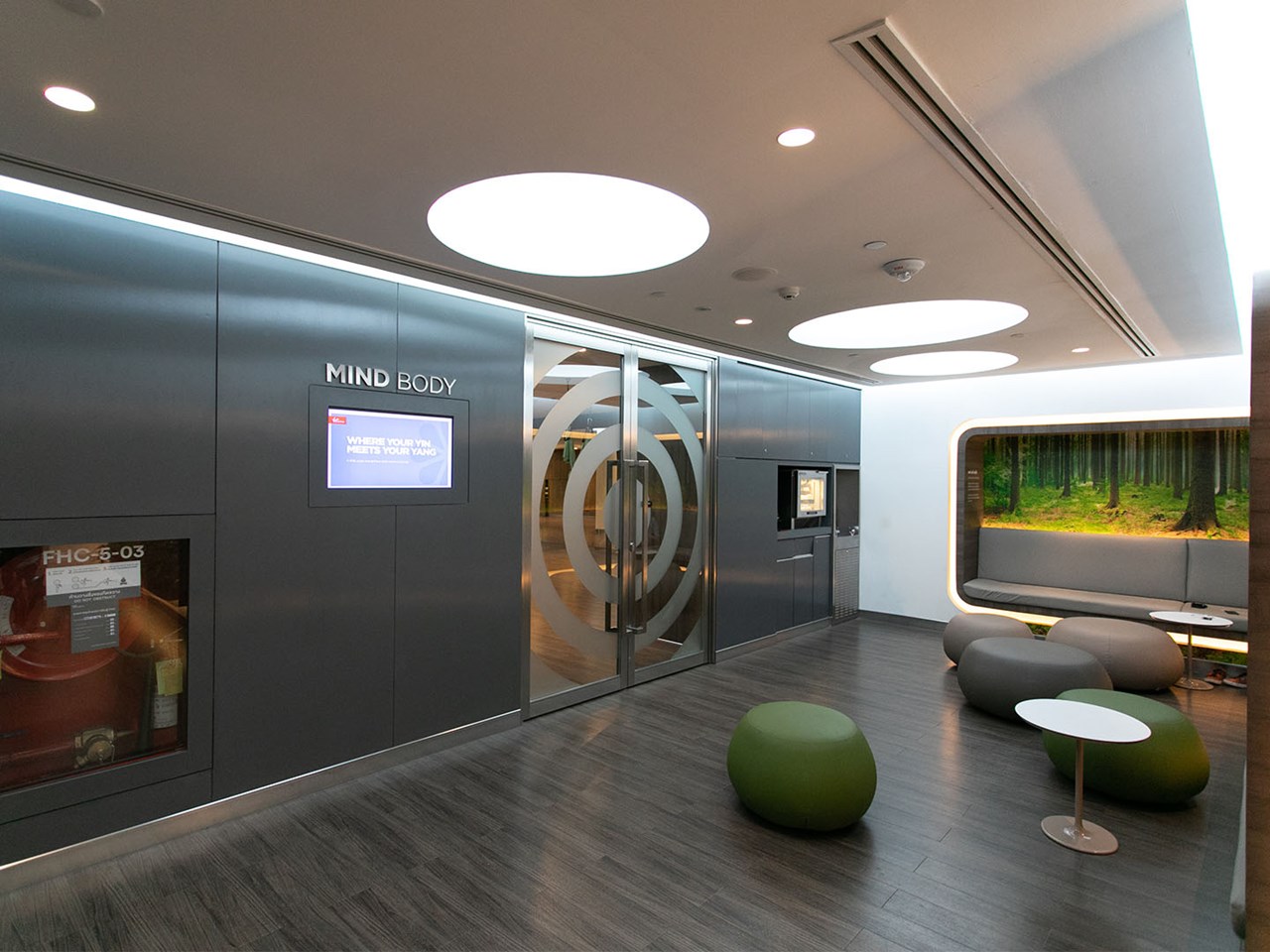 2nd Floor: Training Area, Studios & Locker Rooms
The Training Area is divided into 5 zones:
The Cardio zone is filled with the newest exercise equipment from Technogym Artis®, such as the curved treadmill (or Skillmill), the Jacobs Ladder, and many other cardio-related equipment. The treadmills all come with a large monitor so that we can occupy ourselves with different forms of entertainment while getting our workouts in.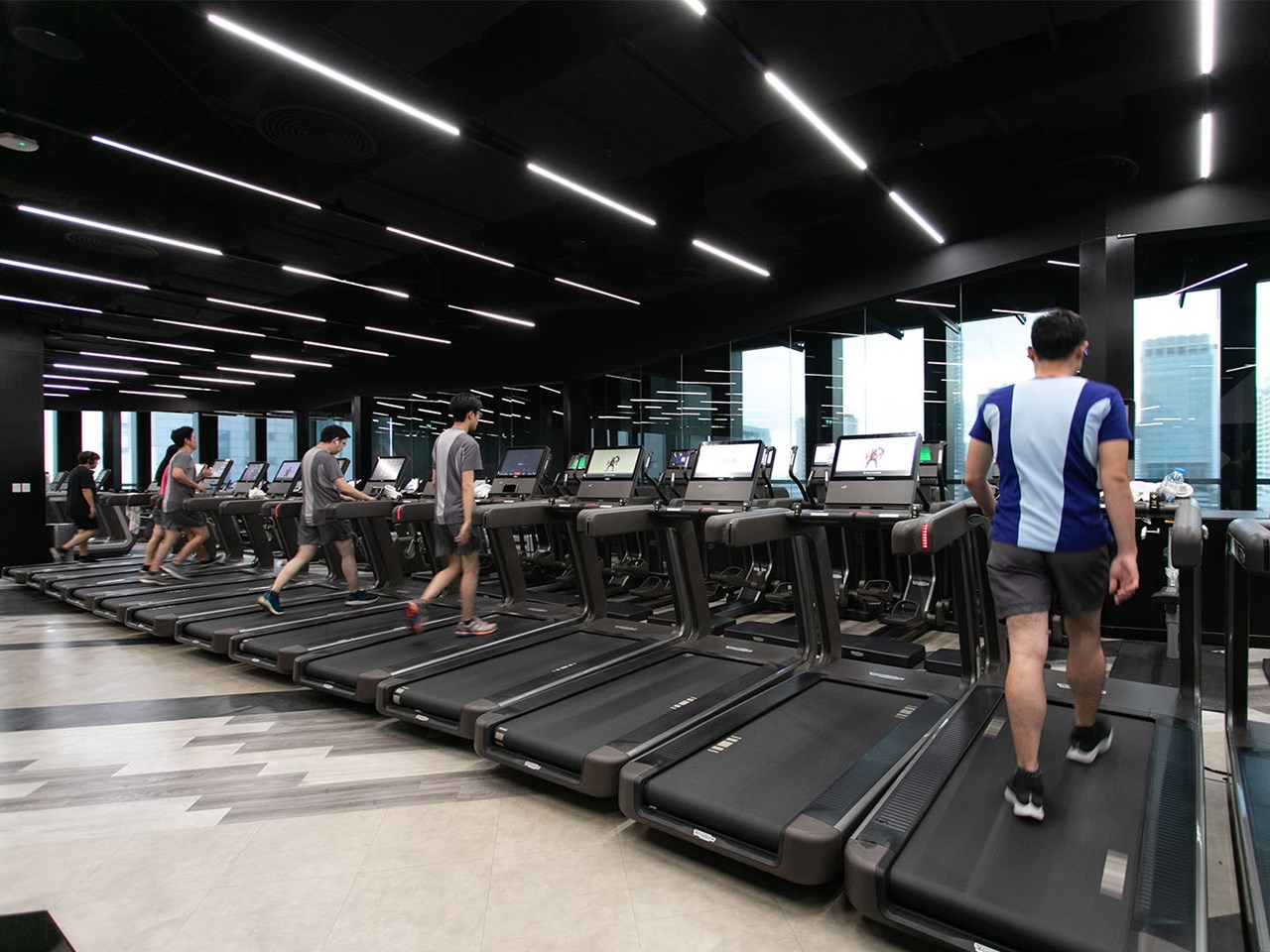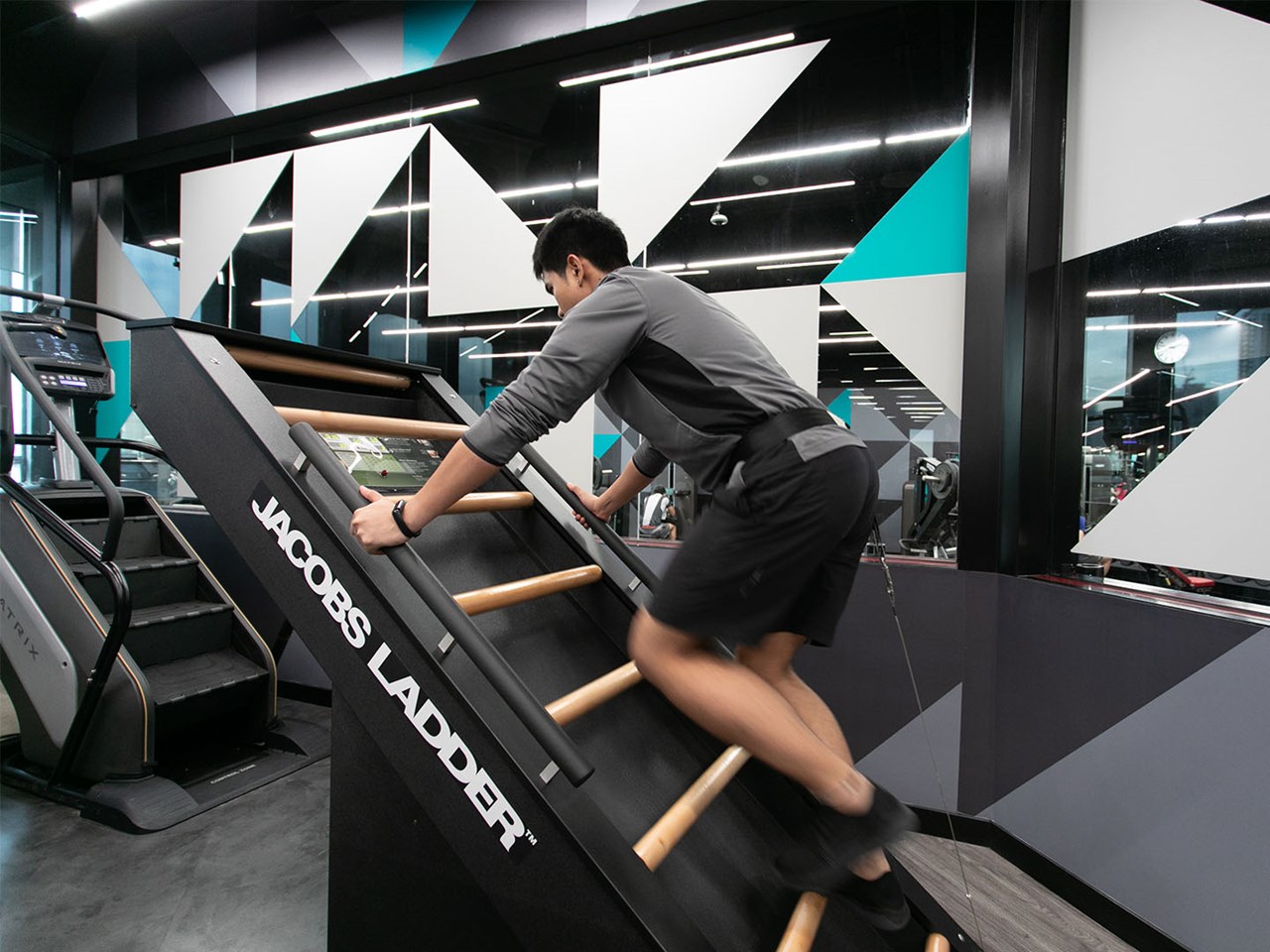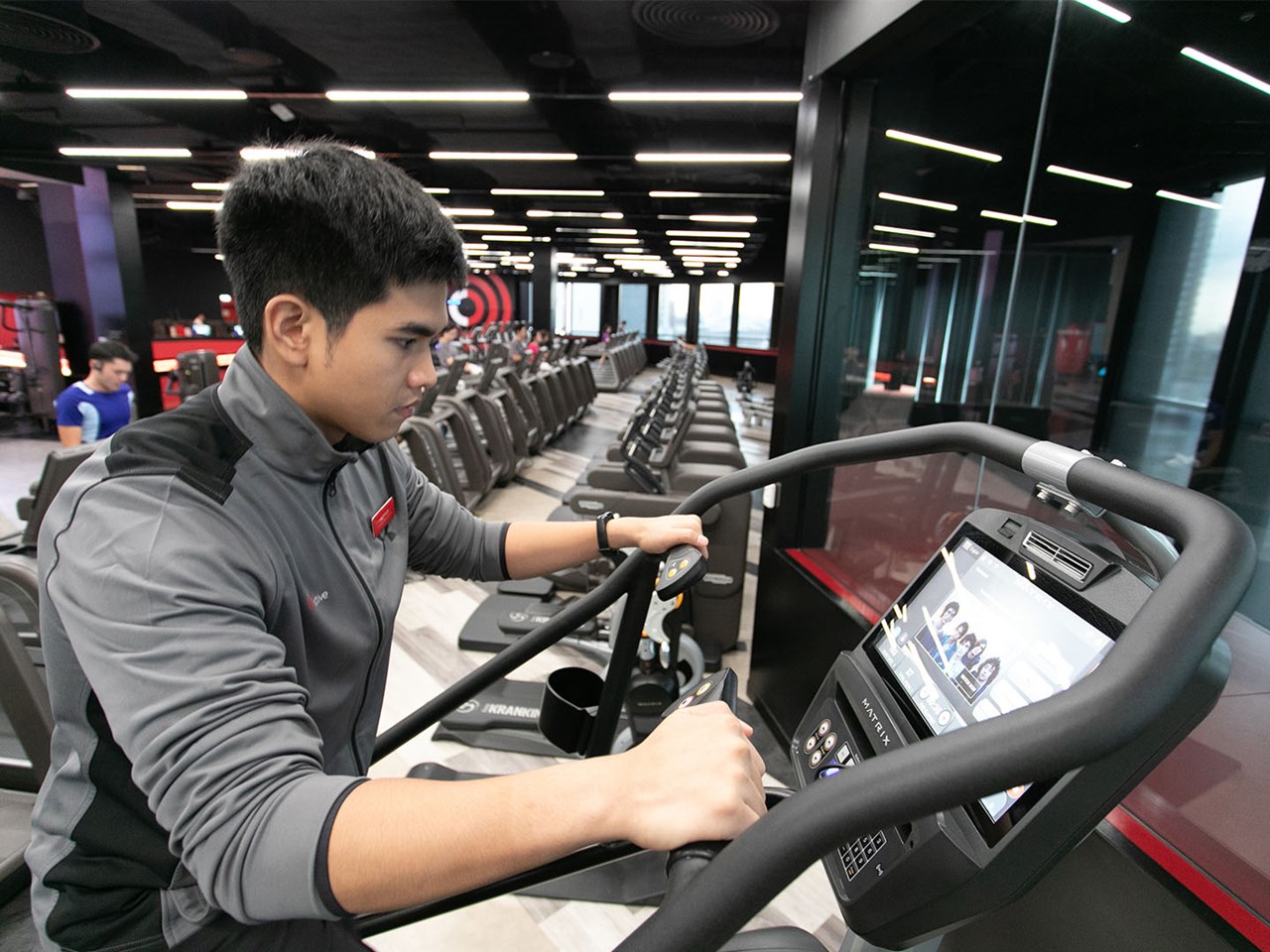 The Weights zone is filled with both equipment from Technogym Artis® and free weight weightlifting equipment. Then you also have the shaking exercise machine named PowerPlate that will help to achieve your goal of getting a leaner body.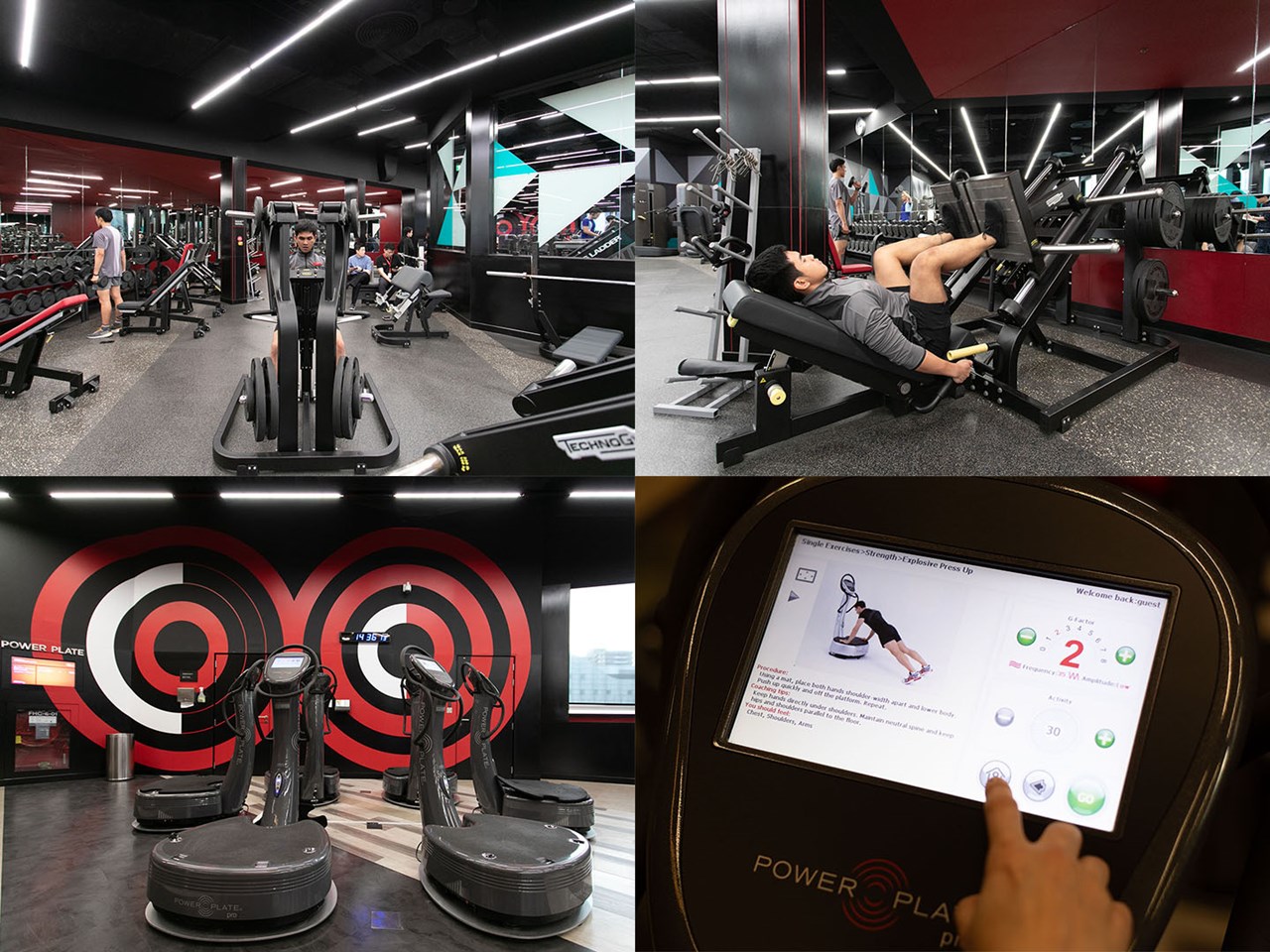 The Climbing zone, which consists of the rock climbing course, helps improve both flexibility and strength. It was designed with varying levels of difficulty, along with standard equipment to ensure the highest levels of safety.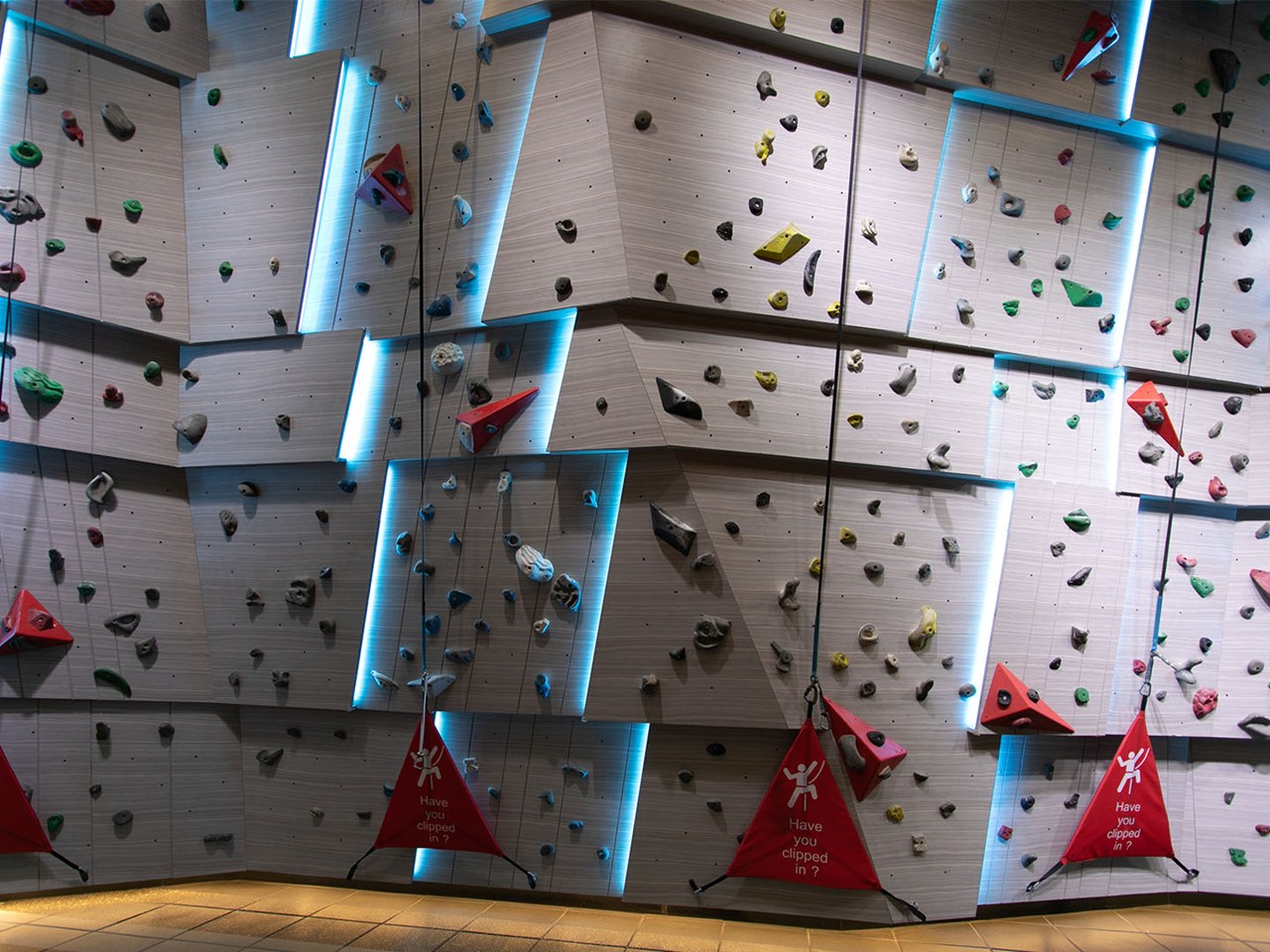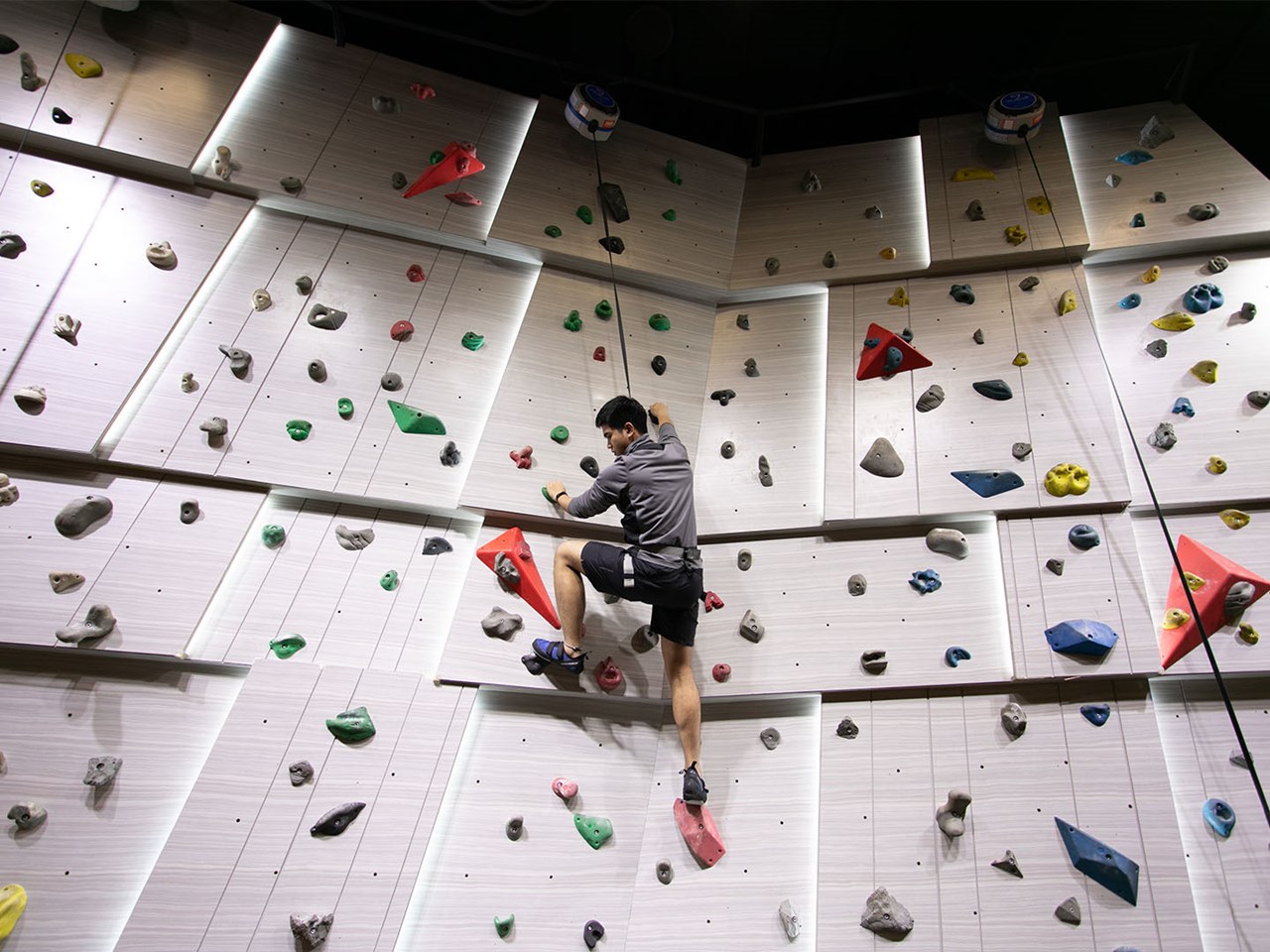 The Grid zone comes with climbing bars, boxing classes, and circuit training. This zone was ultimately designed to help enhance after burn by up to 24 hours after working out. The flooring in this area is padded with rubber in order to better absorb impact and prevent slipping. It also comes with clear windows so you get a scenic view of the city outside.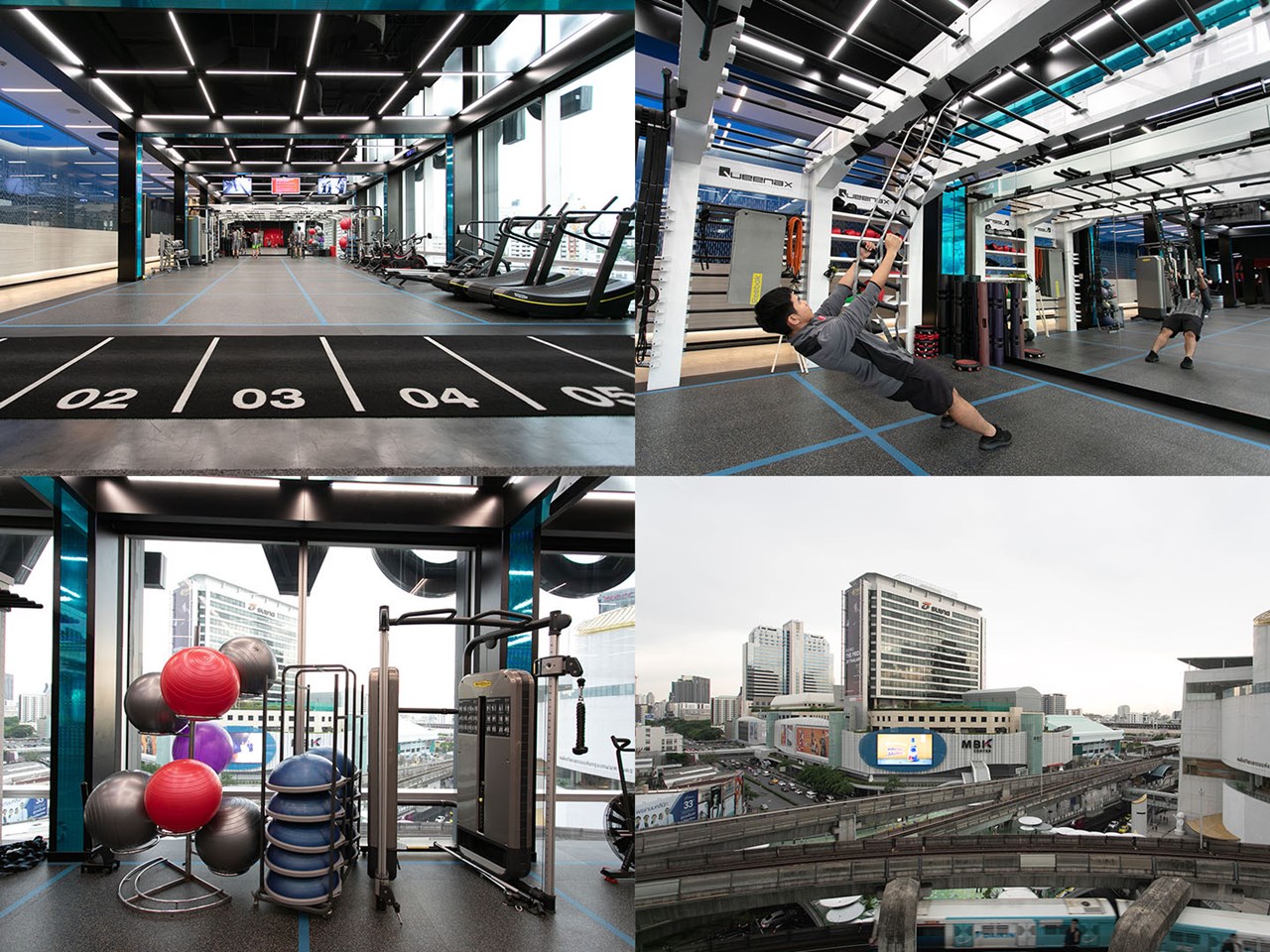 Studios: Altitude Studio & Ride Studio
The Altitude Studio is a room where the oxygen level has been lowered. In essence, being in there feels like you're in a place that is many miles above sea level, such as a mountaintop. You can adjust the altitude in this room to your liking so that it ensures an effective workout. For example, a thirty-minute workout in the Altitude Studio equates to a ninety-minute workout in the gym.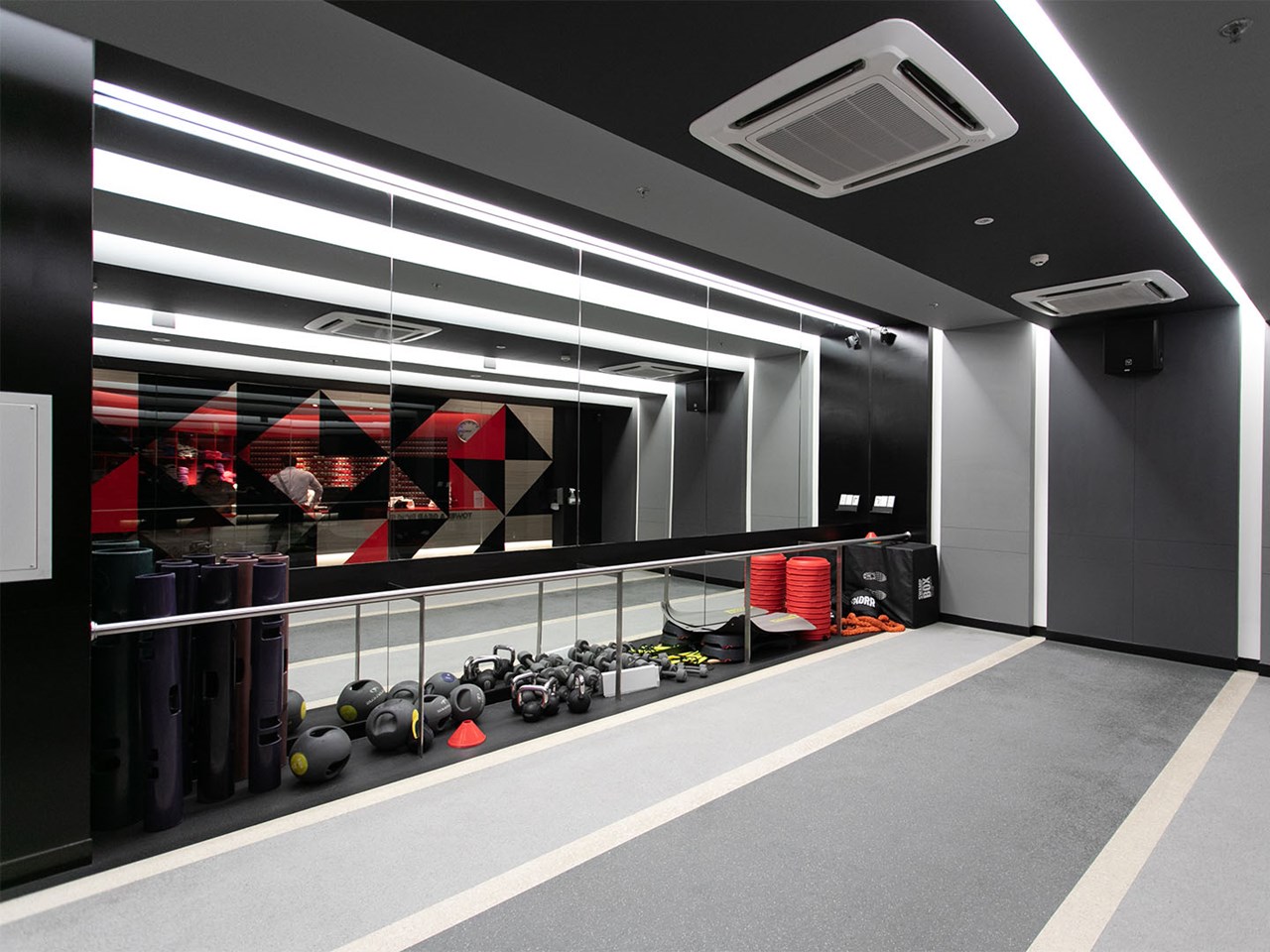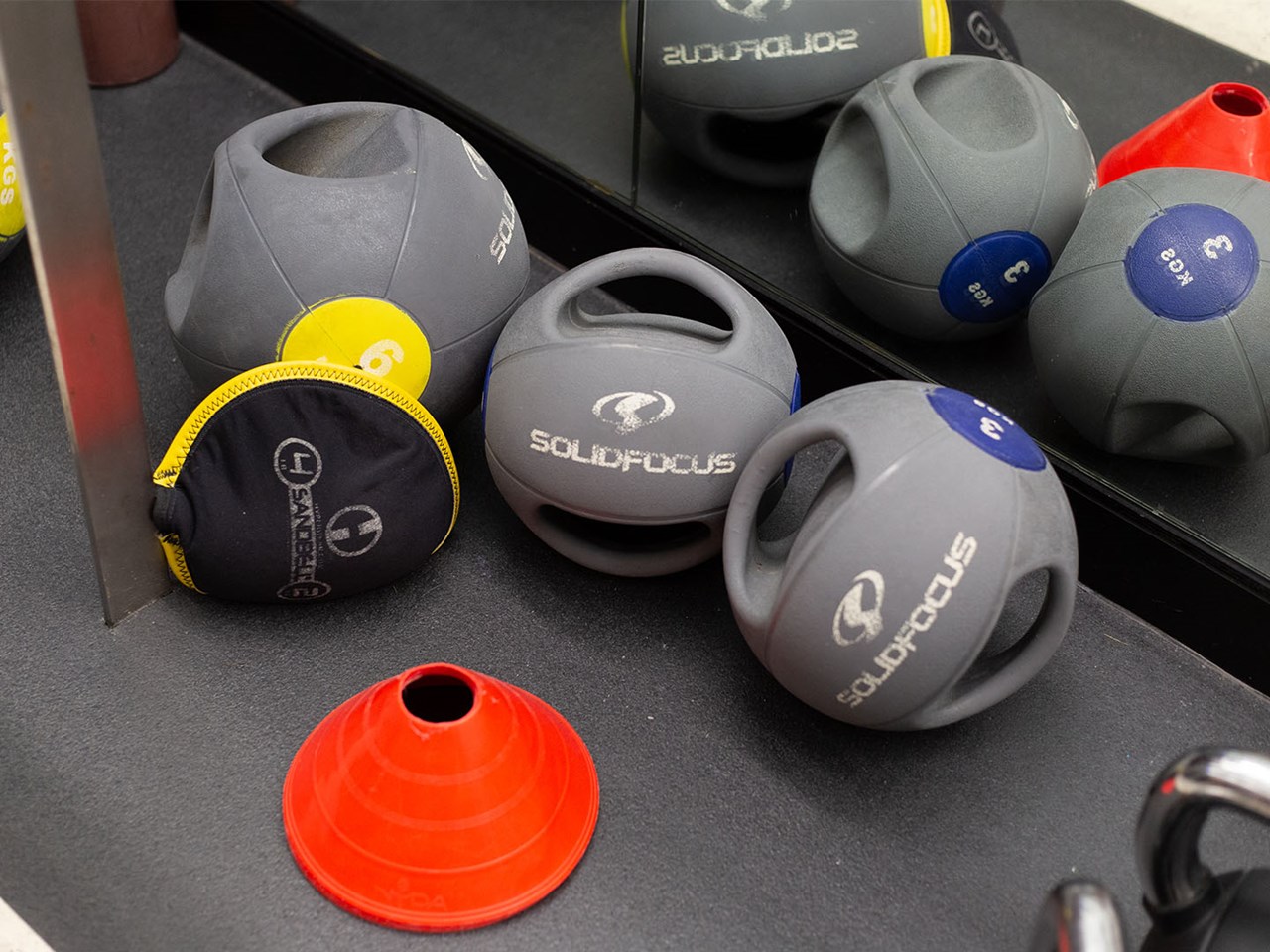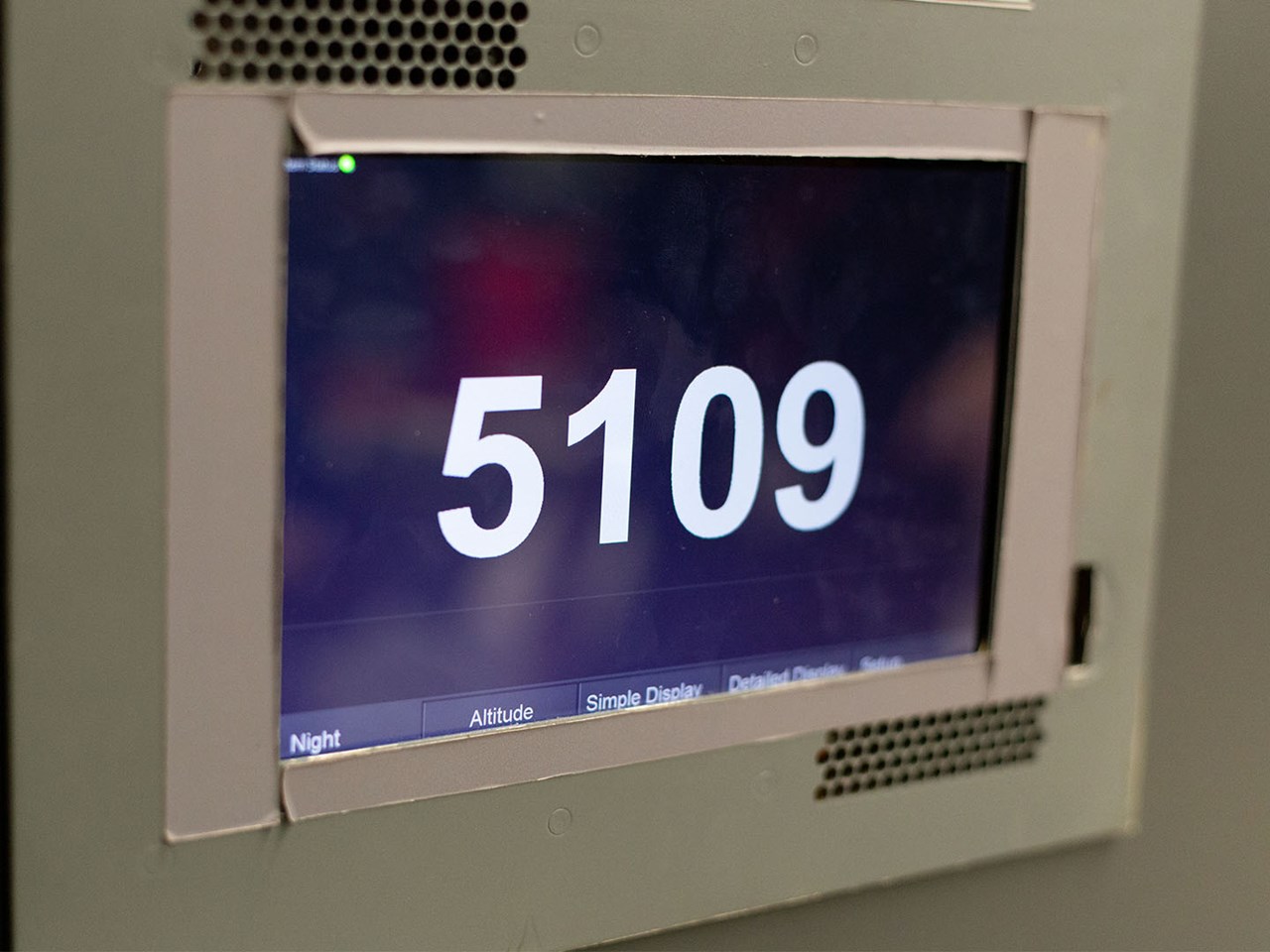 The Ride Studio is a cycling room that looks to provide a special experience by combining exercise with entertainment; using cycling classes such as RPM, Sprint and The Trip. All of these classes are capable of simultaneously providing fun and fitness.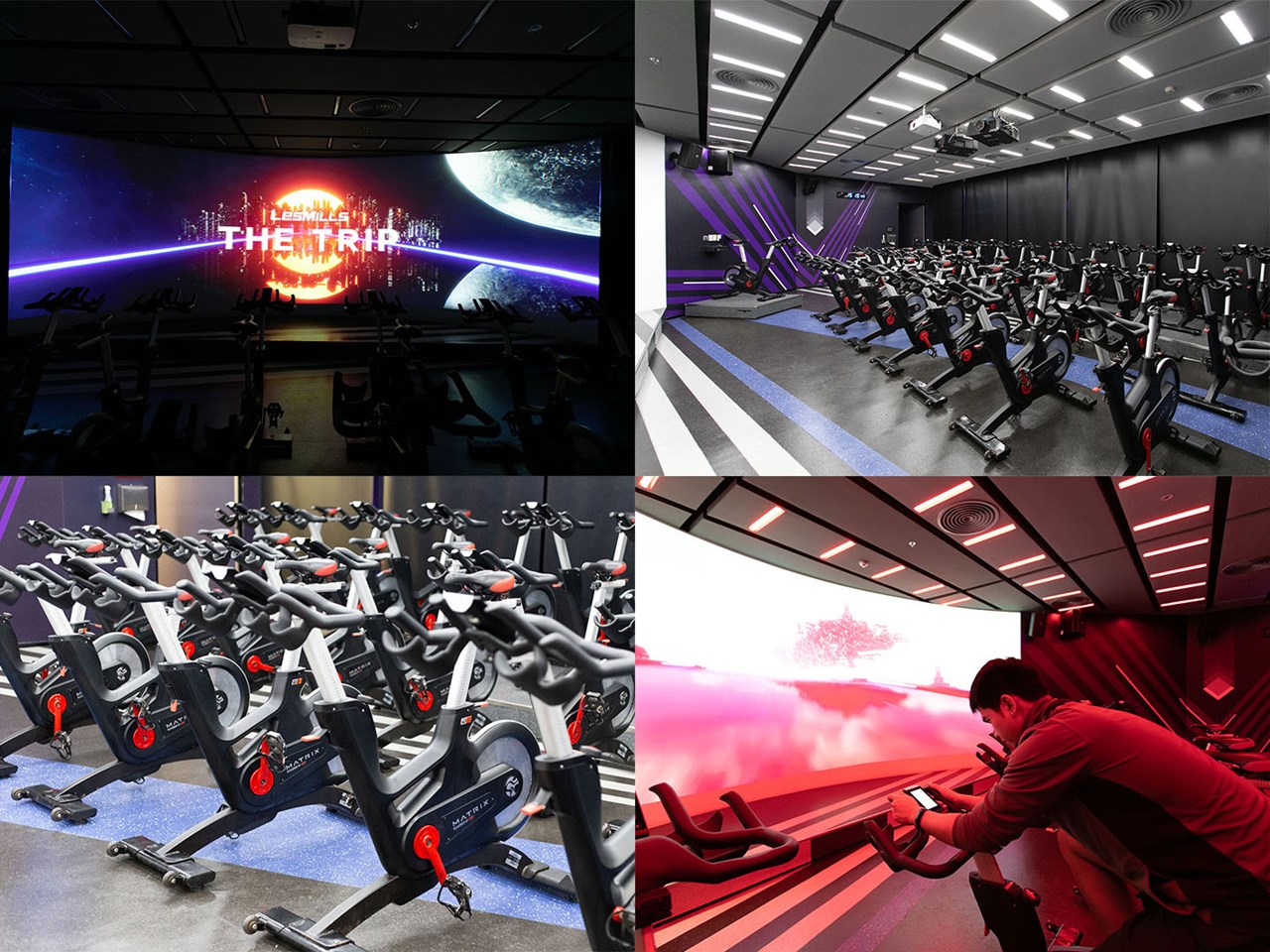 Locker Rooms: At the front of the locker rooms, there's a Towel & Gear Pickup zone that provides towels, workout clothing of all sizes, and even socks. This service is free! All you need are your training shoes and you're good to go.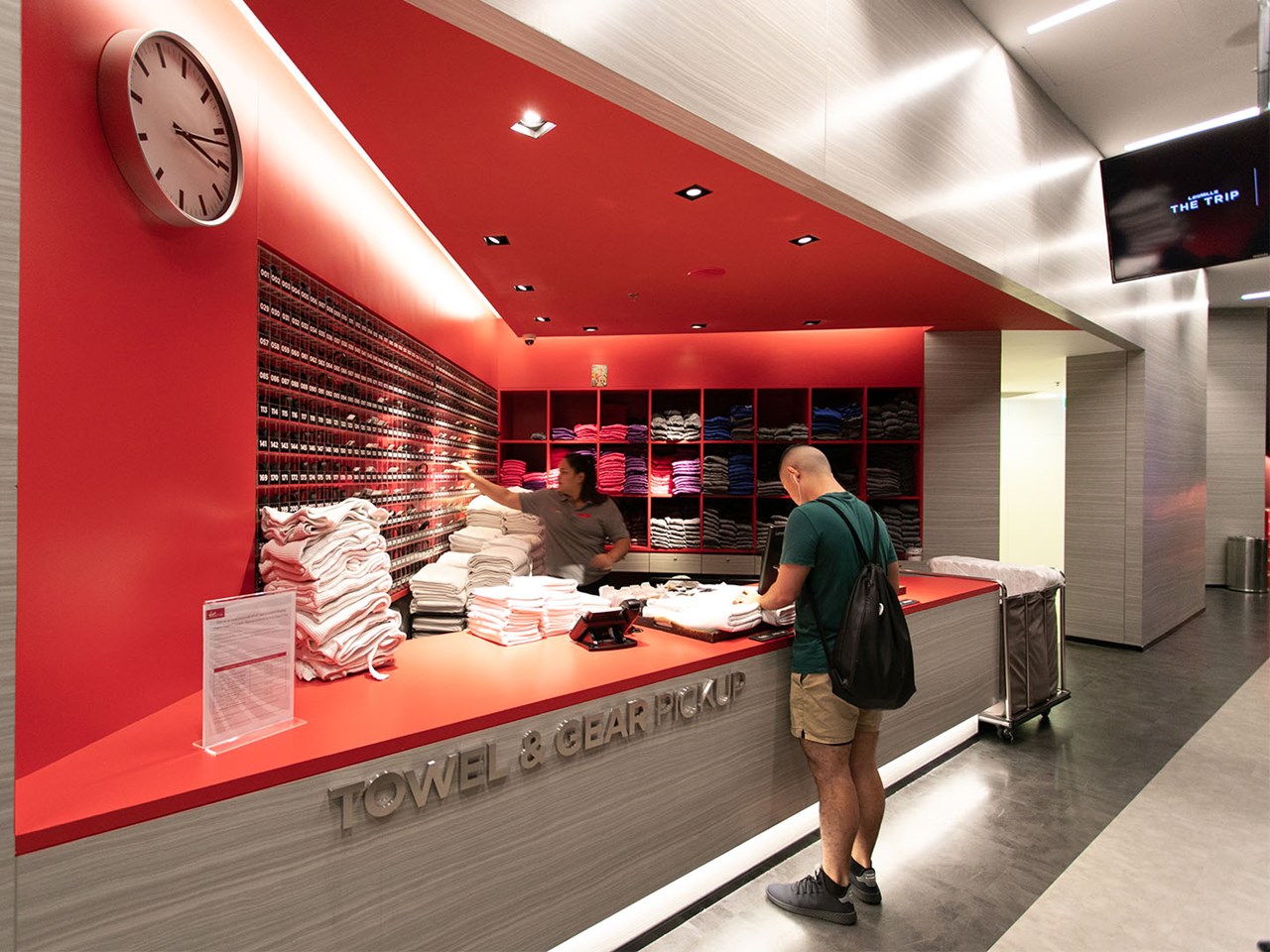 In each locker room, male and female, there are over 40 showers and changing rooms that come with cleansing and skincare products provided by Panpuri, along with a hairdryer. Lockers can be opened via a wristband key, which is convenient to carry while working out.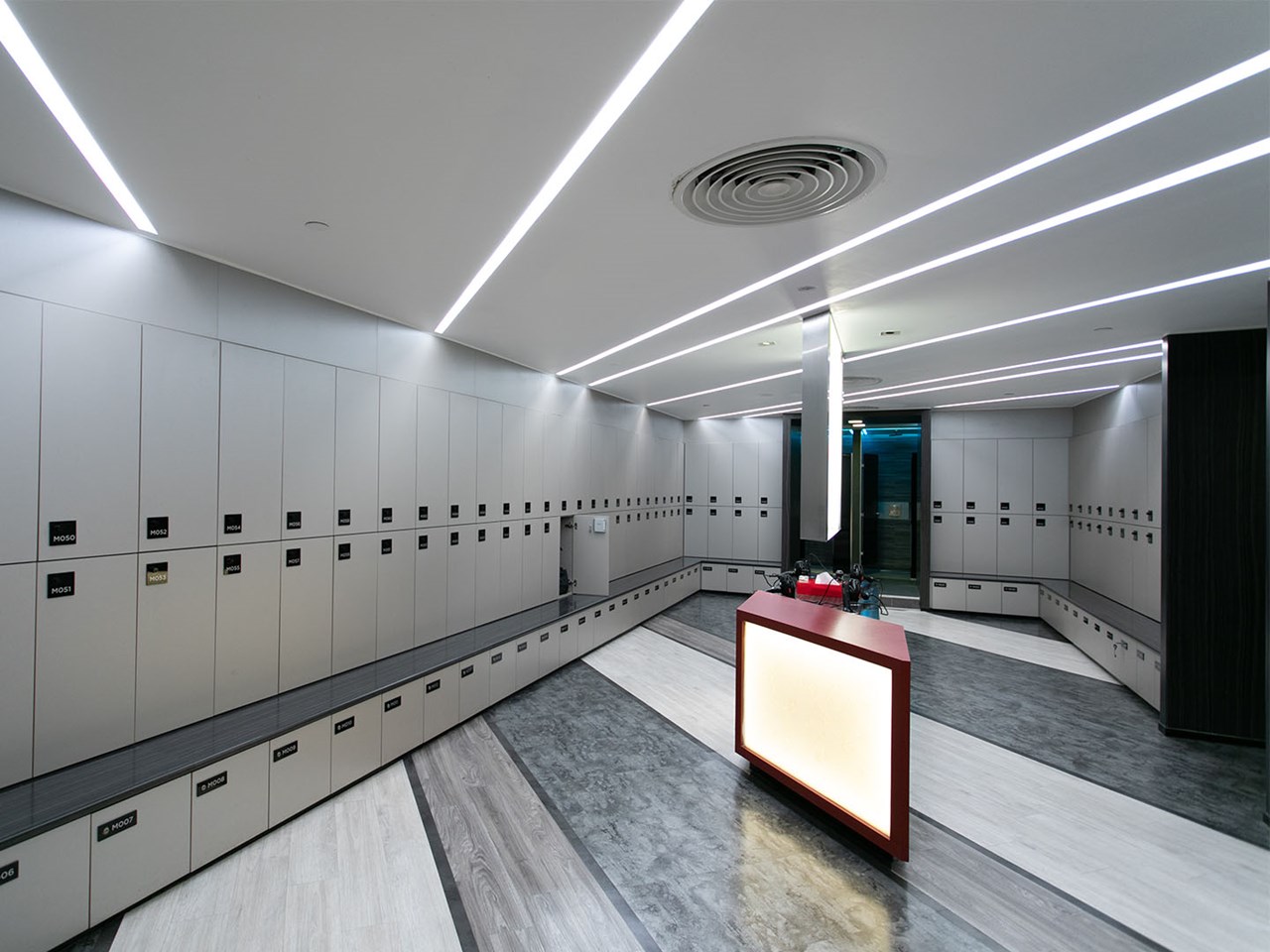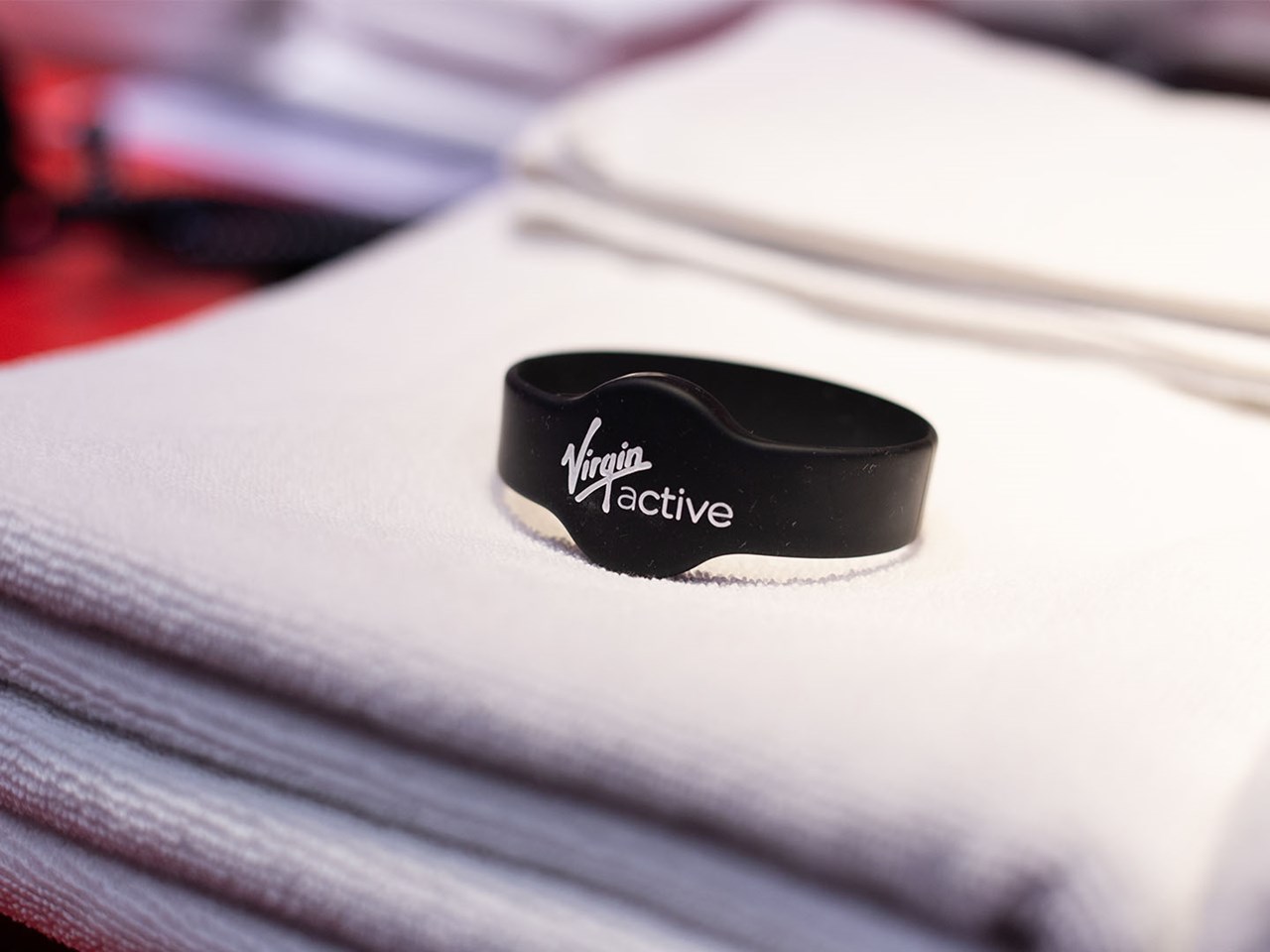 If you go deeper into the locker rooms, you will find the Steam Room and the Ice Room, designed to aid in balance and accelerate muscle recovery after a workout.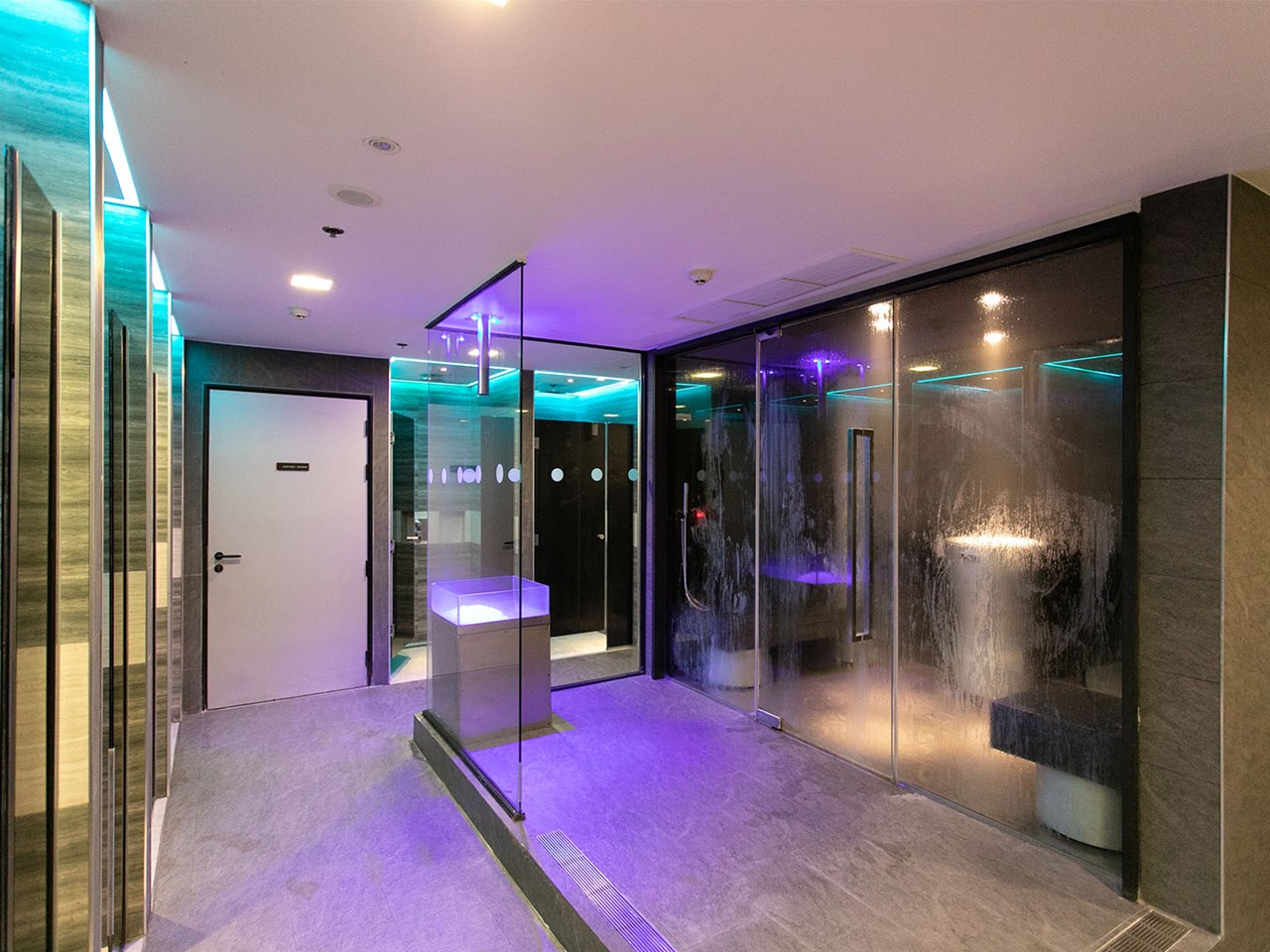 Aqua Lounge, Spa Pool & Salt Room
When you walk down from the locker room, you will enter the pool zone. This zone is divided into three specific areas:
The Aqua Lounge, a 20-meter indoor pool with a depth of 1.1 meters that will allow you to enjoy swimming the entire time.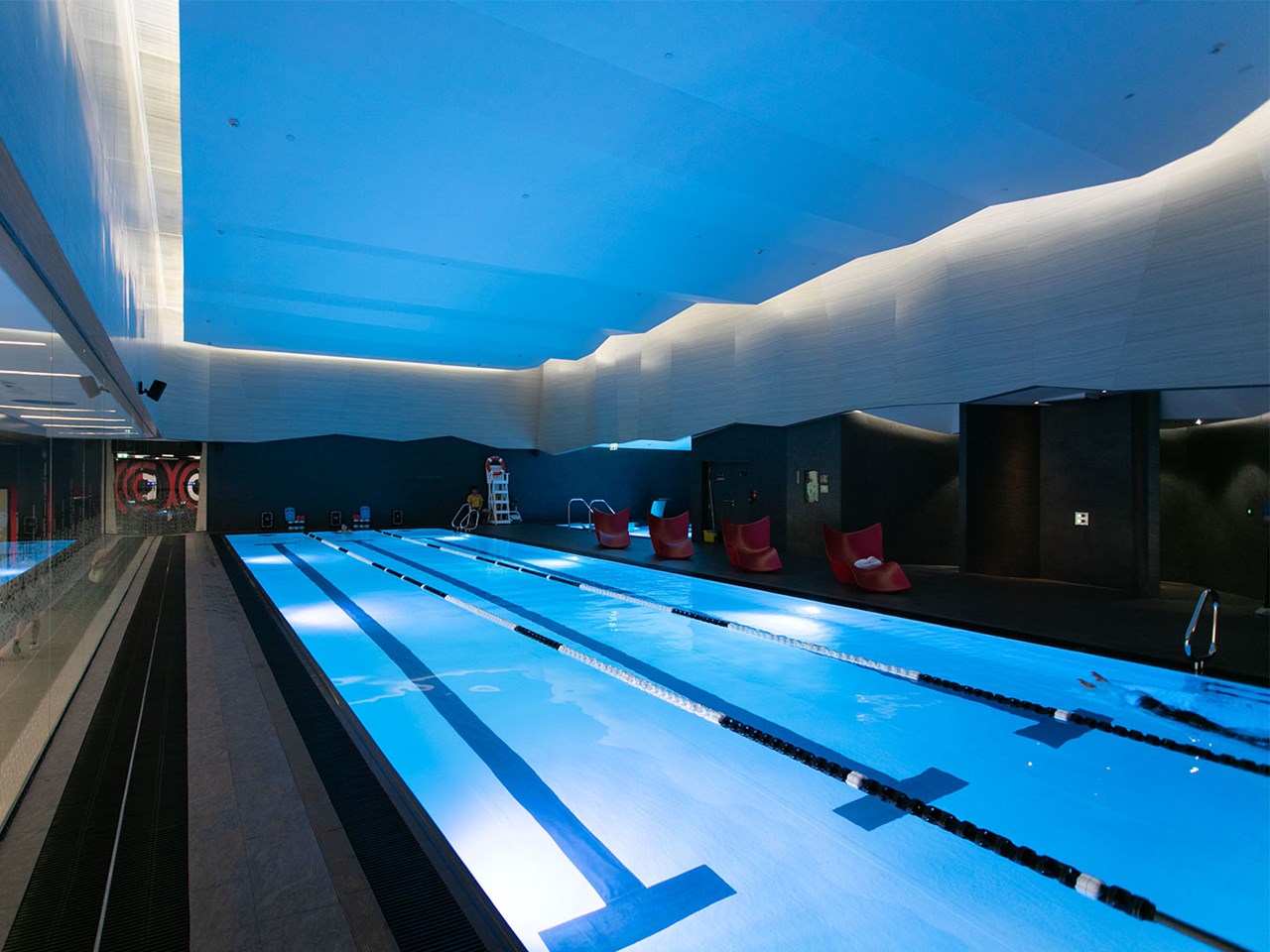 The Spa Pool, a jacuzzi that will help you effectively relieve any sore muscles you may have.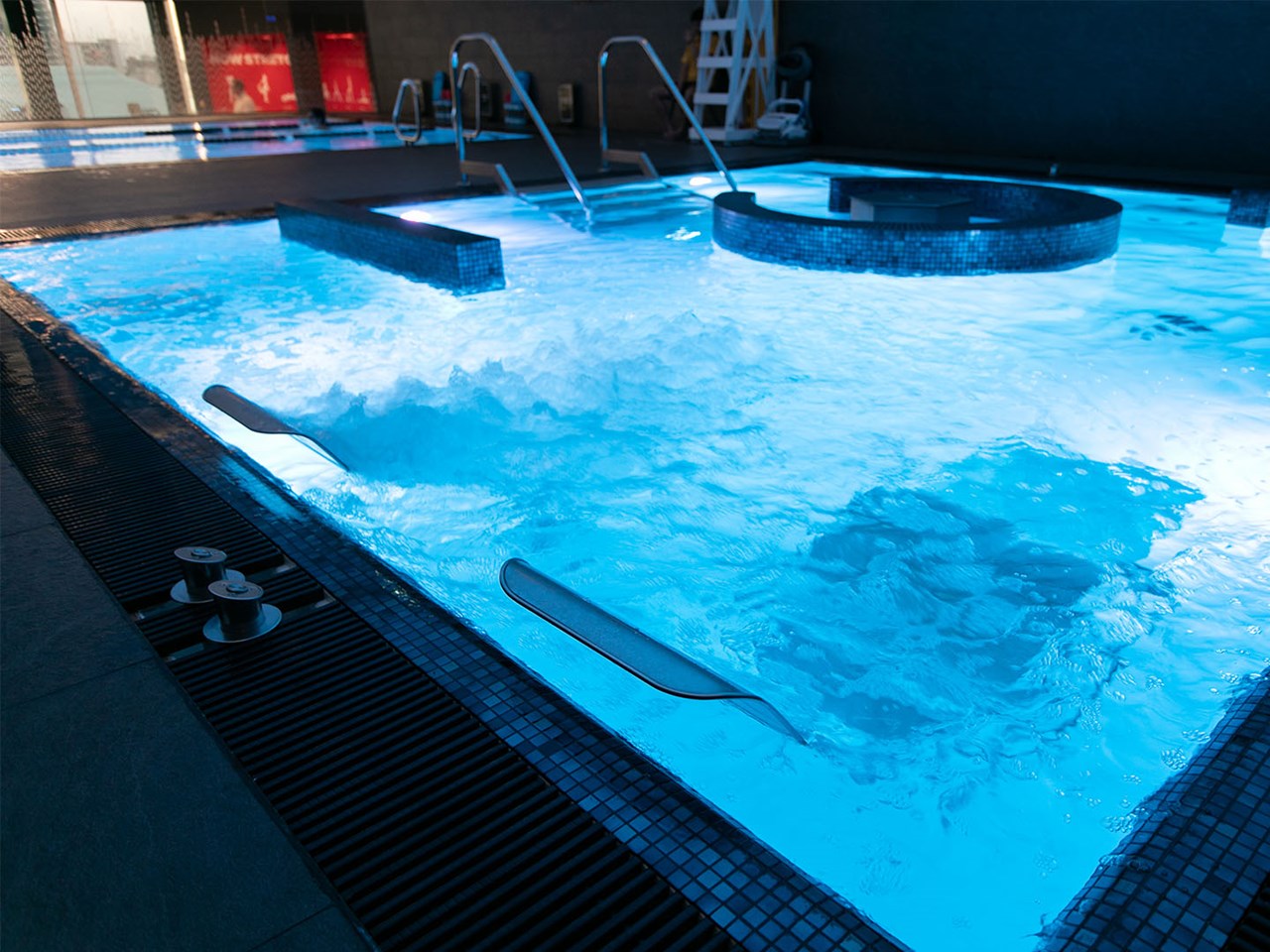 The Salt Room, a room containing pure salt from the Himalayas that will help with your breathing recovery and overall physical recovery.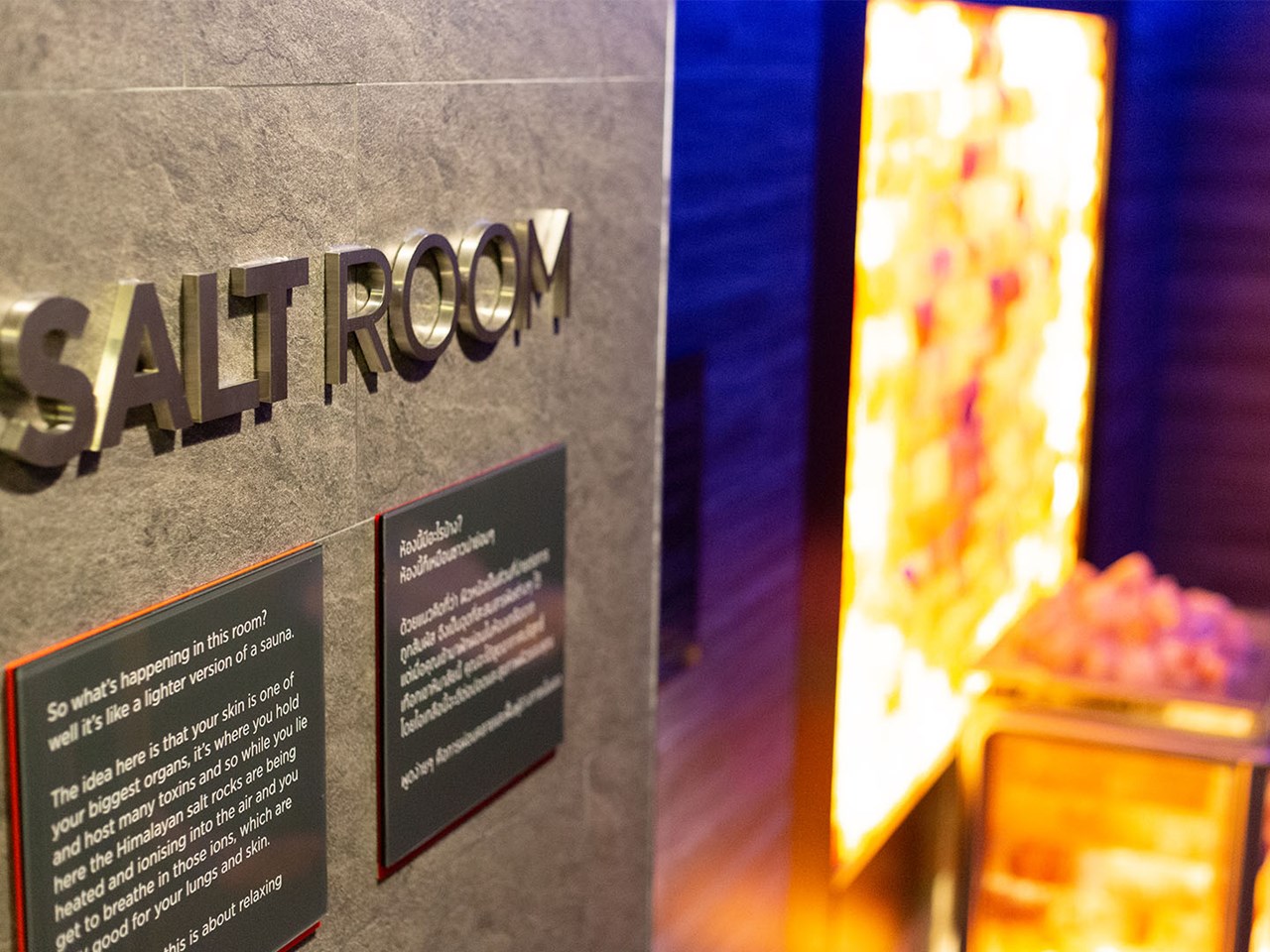 For those of you health lovers who are in search of a premium-level fitness club, look no further than Virgin Active Siam Discovery. It is the answer to any recurring questions and doubts you may have. That's because it's chock-full-of the latest equipment, the trainers are highly experienced, there are over 200 classes to choose from each week (which you can book online), and it's convenient in terms of location (get off at either Siam Station or National Stadium Station from the BTS). Furthermore, it comes with other complementary services like beverages, Wi-Fi, and workout gear!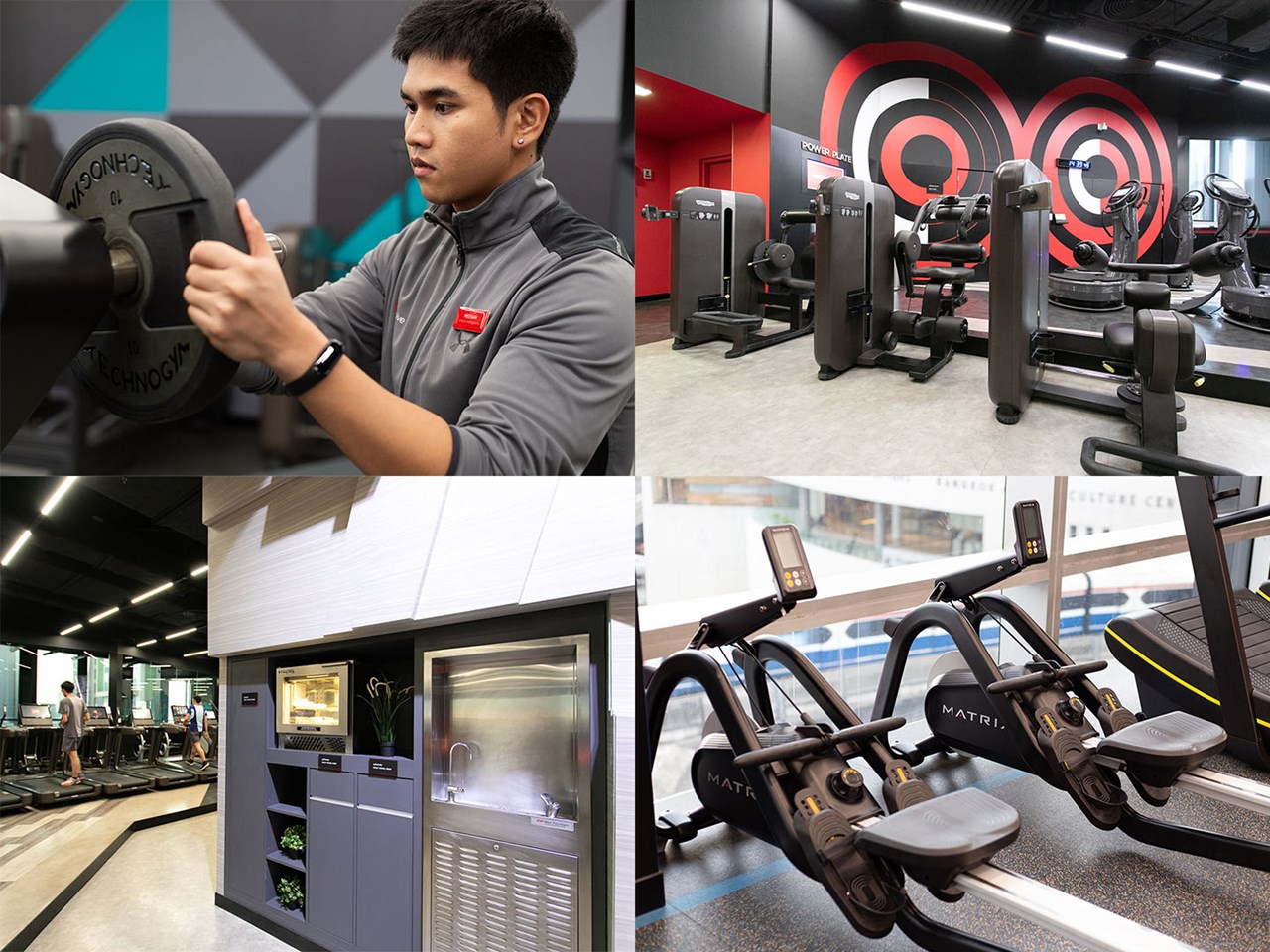 After you get off work today, come by and immerse yourself in the exclusive workout experience that you sure cannot resist at Virgin Active, 4th Fl., Siam Discovery!